Rightmove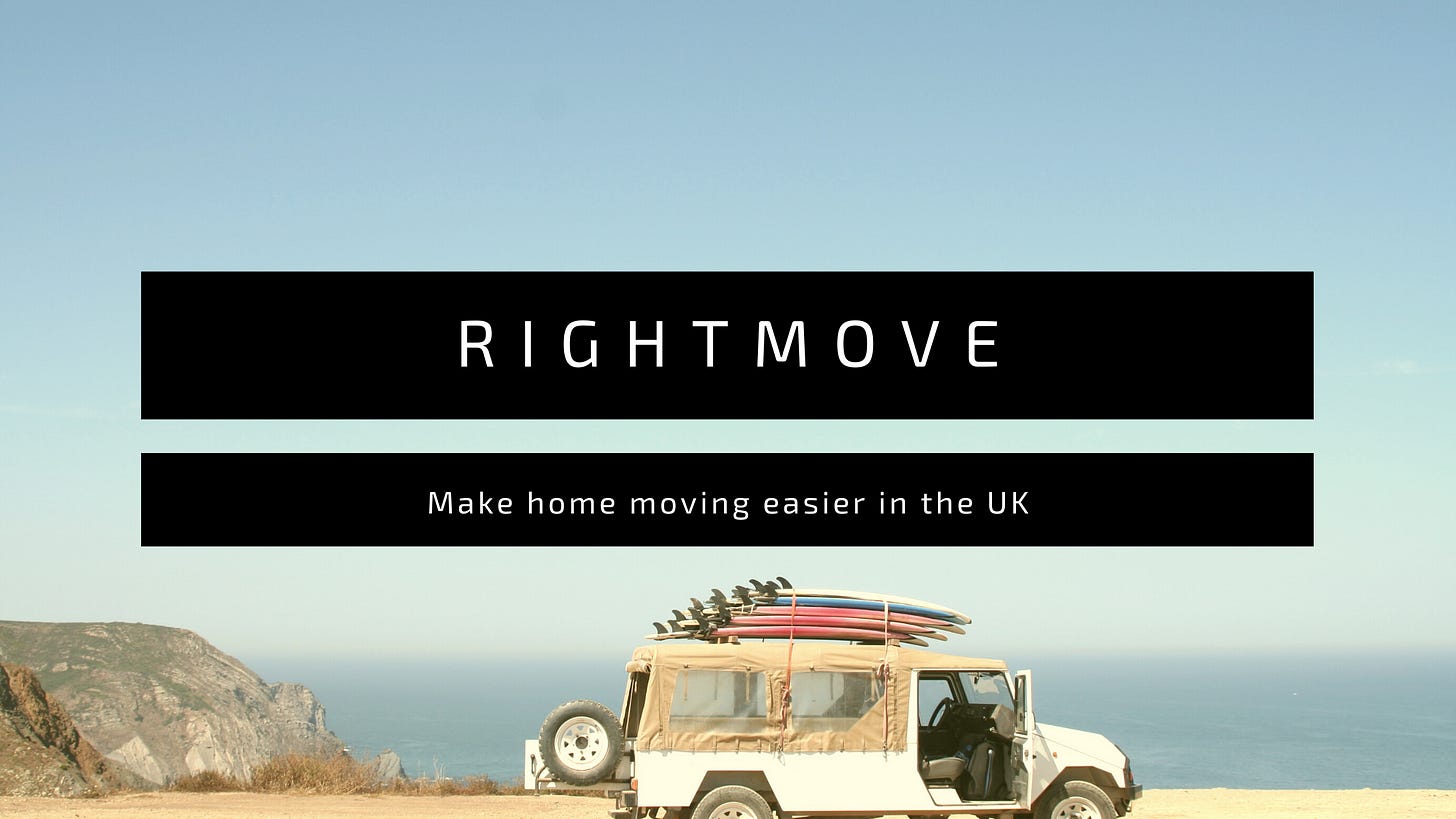 This article is not financial advice, and the only reason I am writing it is so I can re-read my reasoning. I am posting it online so if I am wrong, others can correct my reasoning. Per Lynch:
Know what you own, and know why you own it
Do your own research 😊
---
🏠 What is Rightmove?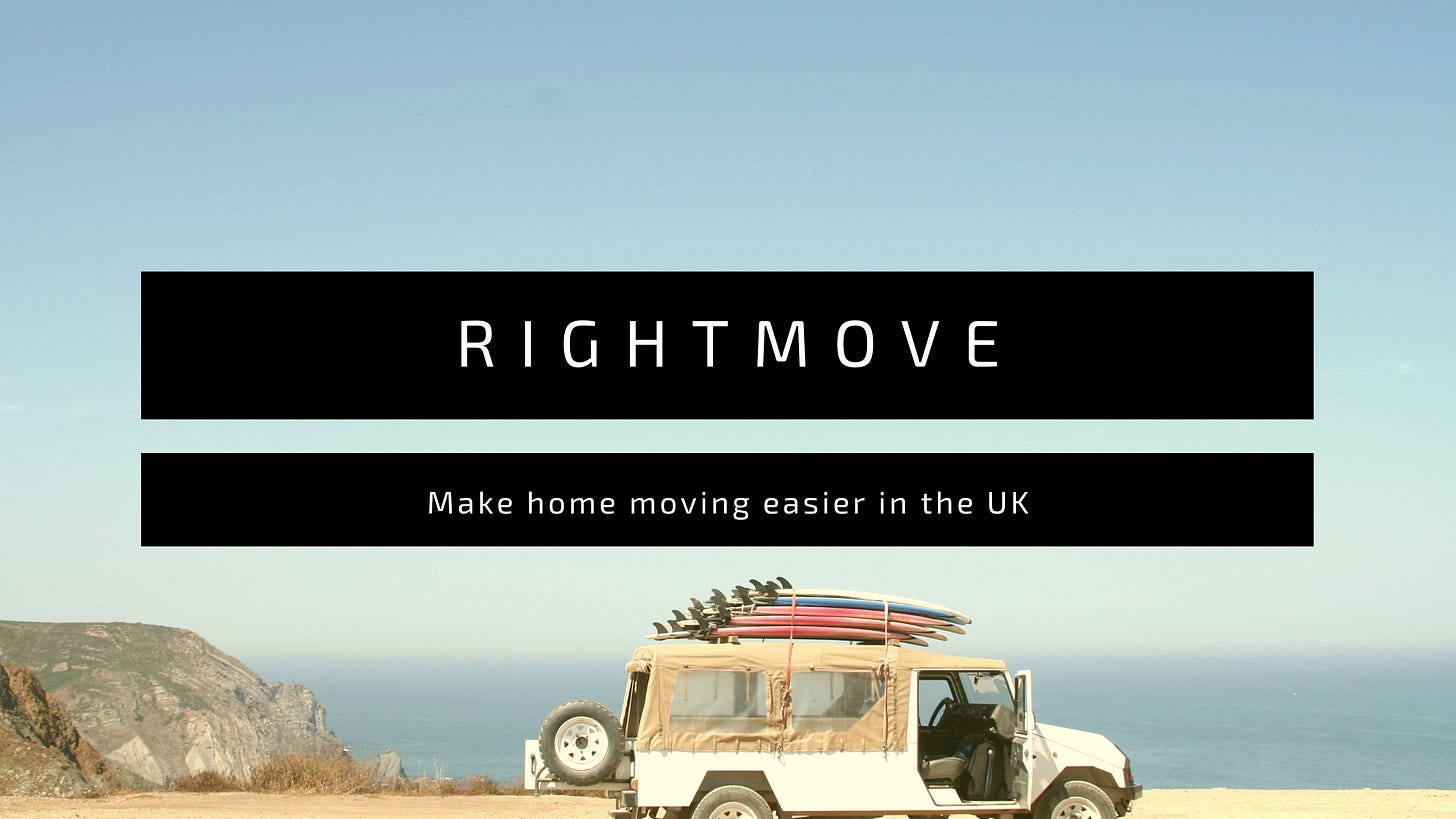 If you saw this title and thought "Wait, Rightmove is a public company?" then you wouldn't be alone. I had the exact same thought a year ago.
Rightmove is the UK's leading property hub with a 77% market share. If you're in the UK, you already know what Rightmove does for consumers. It's an online directory of homes for sale or for rent, with pictures, floorplans, descriptions, prices and more. You can filter by type of property, price or a whole bunch of other things.
One of my favourite pastimes is looking at houses that I will never be able to afford and saying to myself "if I just work every day for 50 years I can afford to live in their shed".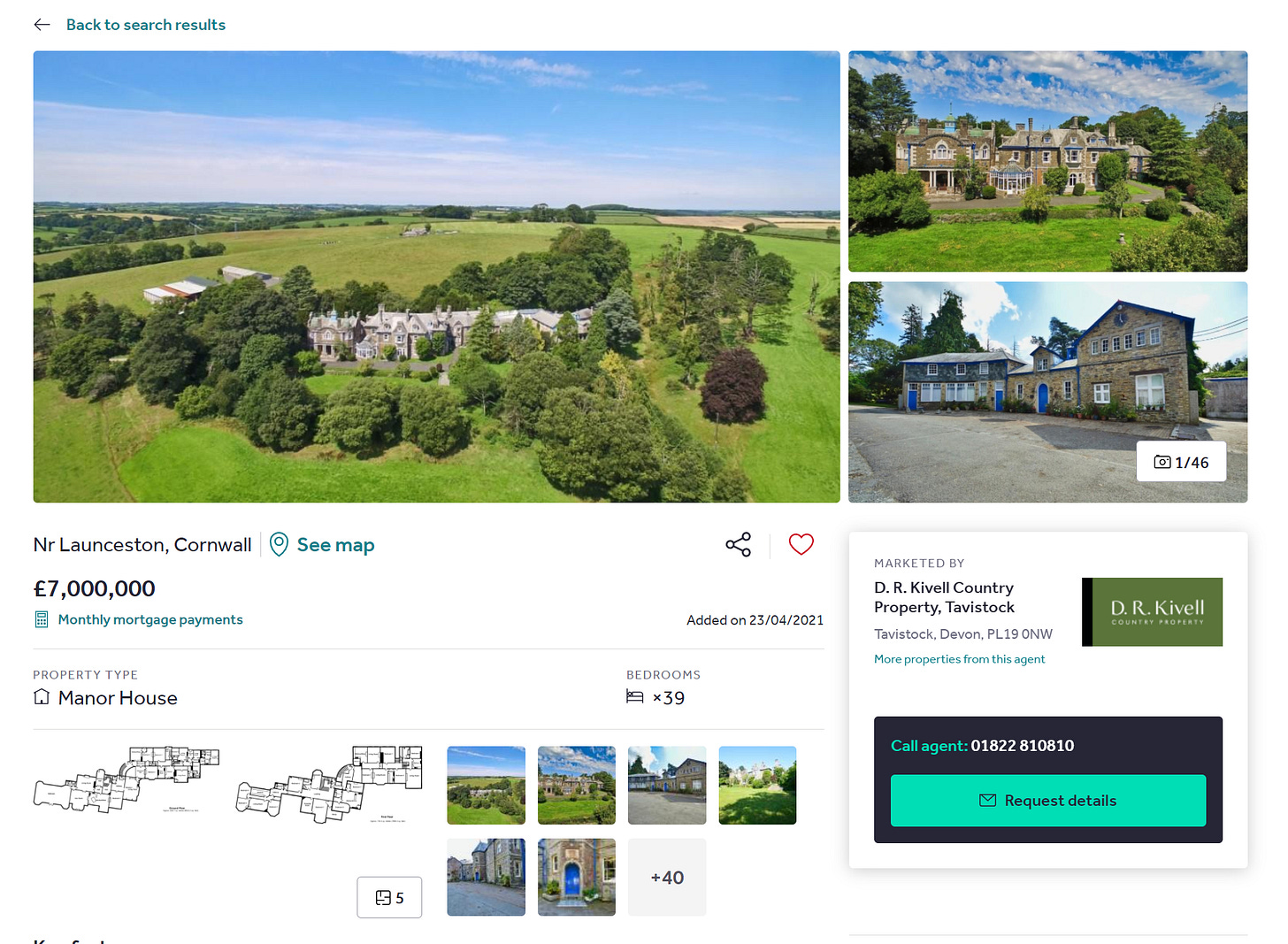 One of Rightmove's biggest perks for buyers is how many agents use it. It's a lot more efficient to go onto Rightmove and see properties from 50+ different agents than entering into a letting agency, giving them your details, and being presented with 3 houses instead of the thousands Rightmove has.
Rightmove.co.uk has a barrage of 127.5 million visits per month, making it the most popular property portal in the UK by far, with Zopa being the 2nd most popular at 50 million views/month.
Here's a fun fact, all of Rightmove's competitors send an enormous amount of traffic to Rightmove.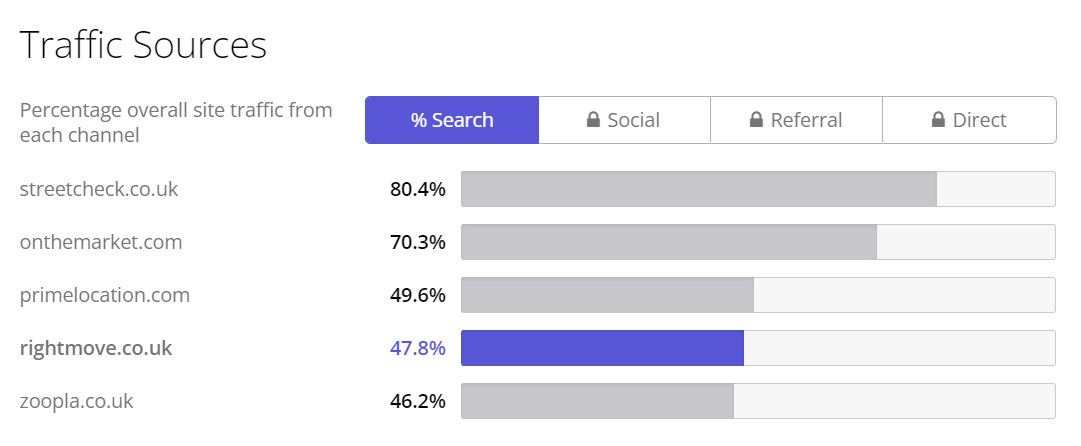 When people search or try to use their competitors, such as Zoopla, they often end up on Rightmove's website instead. The top referrals to Rightmove (a referral is a link to another website that someone opens. So when I link to Rightmove if you click on that link I have referred you to Rightmove) other than itself are its competitors.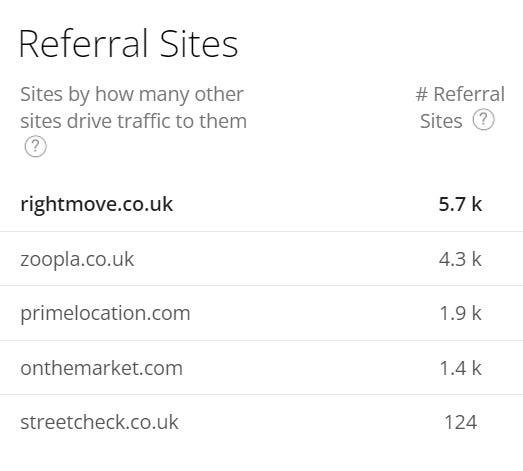 Rightmove was the 20th most popular site in the UK (ahead of Amazon.com, The Guardian, Dailymail, and all the big supermarkets. It was pushed down to 40th due to the pandemic), and this is boosted by the fact that most of the competitors link to Rightmove. Rightmove had 2.1 billion views in 2020, up from 31% in 2019.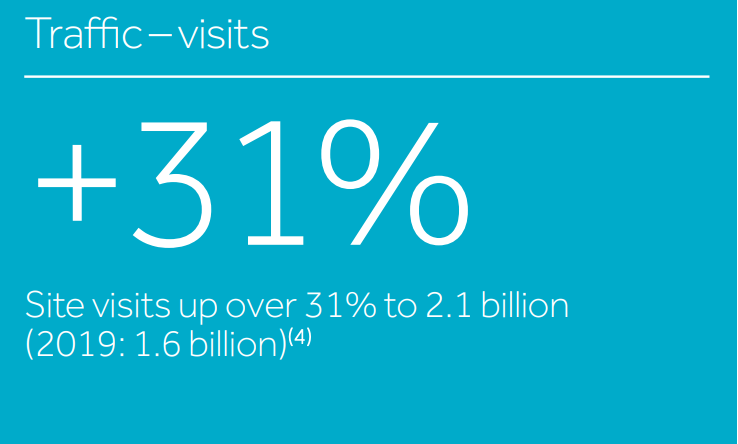 My thesis is that a letting agent copies and pastes their Rightmove ad onto other sites, and if they have a link in that ad it'll link to Rightmove.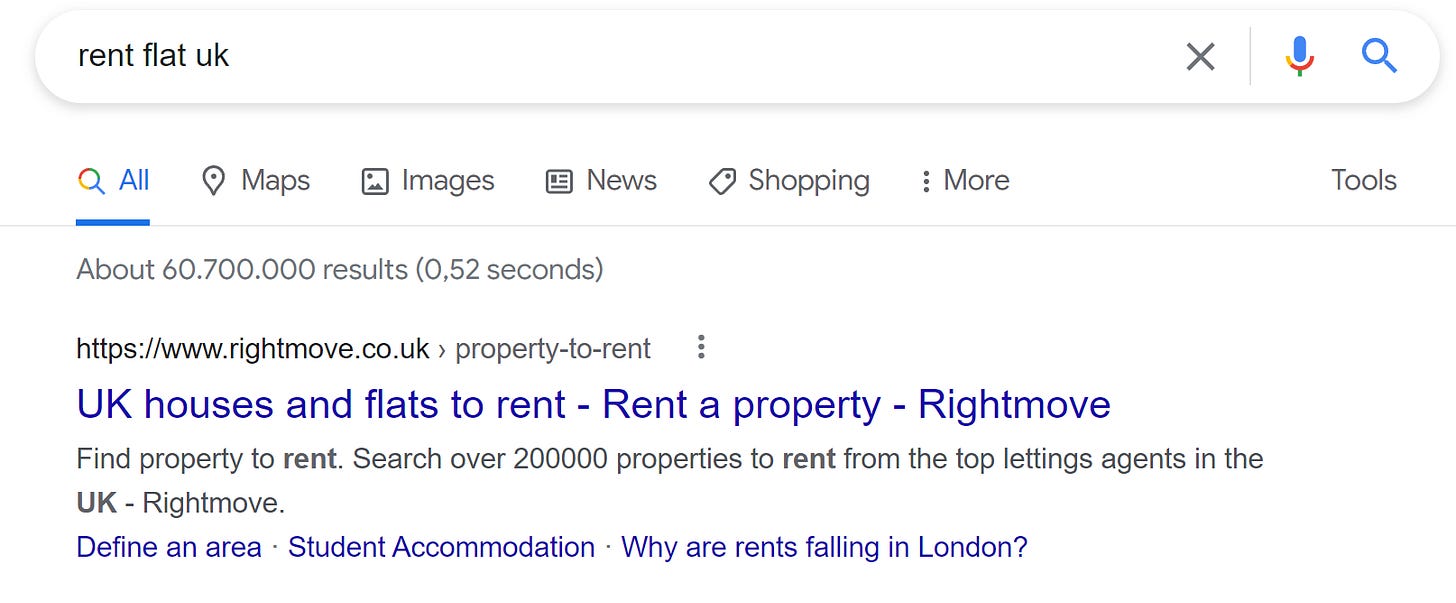 Rightmove is a search engine optimisation (SEO) powerhouse. When people search for housing in the UK they are more likely to end up on Rightmove than a competitors website.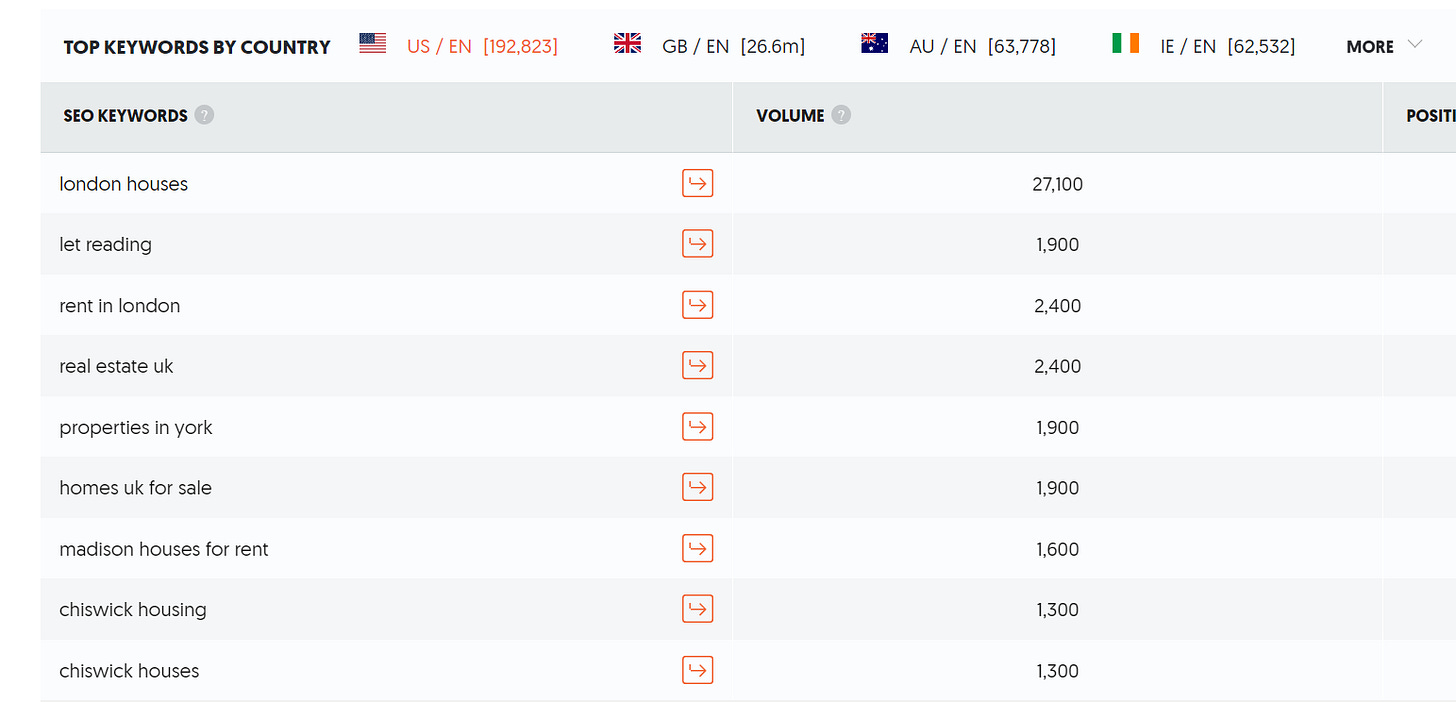 Now you might be wondering "page views are nice, but it doesn't matter if the average customer only spent 2 seconds on the site before leaving". Luckily Rightmove shares this number with us. Customers collectively spent 15.9 billion minutes on the site in 2020, up 31% from 2019. That's 3021 years.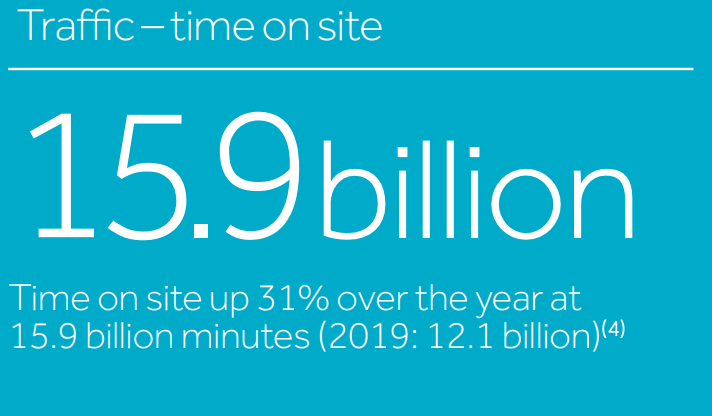 And this is just the consumers. For agents Rightmove has an invaluable offer. When you list on Rightmove, you connect your property with a much larger audience and enjoy SEO dominance. No newspaper, advertising medium or otherwise enjoys 127 million views/month who are solely looking at properties.
Rightmove earns its money by charging a subscription to estate agents to list properties on the website and a variety of services to help agents market their properties. Rightmove leverages their userbase by collecting data and producing software which gives agents insight into pricing and the housing market in local areas.
💰 Financials
Total Revenue: 260,792	(Growing 4% YoY w/ Corona, 14% YoY without)
Operating Expense: 72,444 (2.9% w/ Corona, 6.13% YoY without)	
Net Income: 187,913 (-2.9% Corona, 15.2% YoY without)
Average Revenue Per Agent: £842 (-7% Corona, 8% YoY without)
The global pandemic affected all businesses, especially Rightmove's where people were locked down to one location and weren't allowed to relocate, so I've included statistics for both with Corona virus and if it never happened 🙈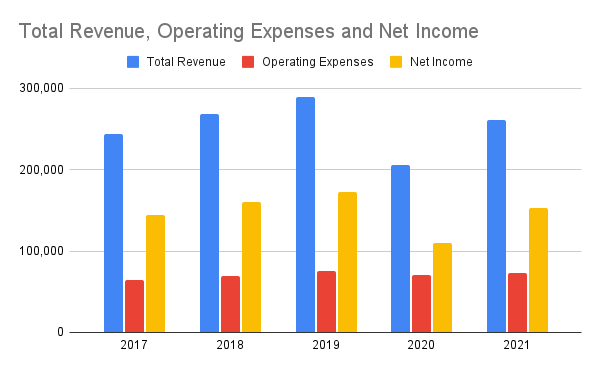 What's interesting to me is how the total revenue grows 14% year on year but the expenses only grow 6%. This means they are netting an 8% difference. Usually, the companies I look at grow 50% per year, but spend 80% more each year 😅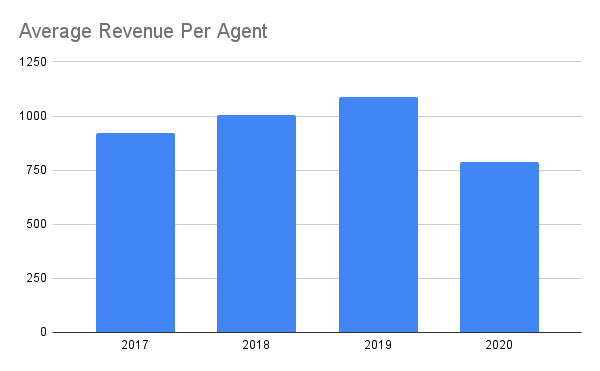 The Average Revenue Per Agent (ARPA) is increasing (minus covid). When evaluating a business with physical stores the same-store sales is one of the most important metrics. This is a similar metric, on average how much money is each agent paying to Rightmove? Seeing this increasing means agents are paying more money year on year, showing that Rightmove is a value-add to them. These agents see positive returns based on their usage of Rightmove, so they invest more into the company to get better returns.
It could also mean that Rightmove has acquired more agents, but this means:
Rightmove doesn't already have every agent.
Newly onboarded agents pay more than the average, as they would have to skew it upwards.
I think both of these are rather unlikely, so it's safe to assume that agents are seeing Rightmove as a value add and investing more into it. In fact, we don't need to guess. Rightmove tells us in their annual report:
" This was driven by a strong uptake of the company's premium 'Optimiser 2020' package, as the number of agents subscribing to it increased to 16% from 9% at the start of the period.
Real-estate agents are actively increasing their investment into Rightmove. Rightmove also says that the buoyancy of the new homes markets slightly offset this number. Rightmove's management is pleased that 21% of new home developments have already upgraded to its new 'Advanced Development Listings' subscription package. Again, agents actively investing in Rightmove tooling.
Their net income is growing at a nice 15.2% each year discluding Covid. I personally wouldn't say it's very fast, but it's also not slow. Their ratio of revenue to expenses is 26:7, which is incredibly healthy. Their expenses grow much slower than their revenue. Can you tell I'm impressed? 😜
🦠 Covid Discount & More
Rightmove offered a 75% discount on invoice values to both Agency and new Home customers between April and July of 2020, and a further discount to Agency customers in August and September (60% and 40%) which means their revenue for the year went dramatically down. This was a smart move because:
Keeping your current customers is a lot easier and cheaper (approximately 5 times cheaper) than acquiring new customers.
If Rightmove didn't offer this discount Agency customers would leave in mass, and they would have to re-acquire them all over again or worse — watch them go to their competitors. The discount was a way for Rightmove to keep their customers during the global pandemic. This shows in the numbers where only 3% of Rightmove's customers left in 2020.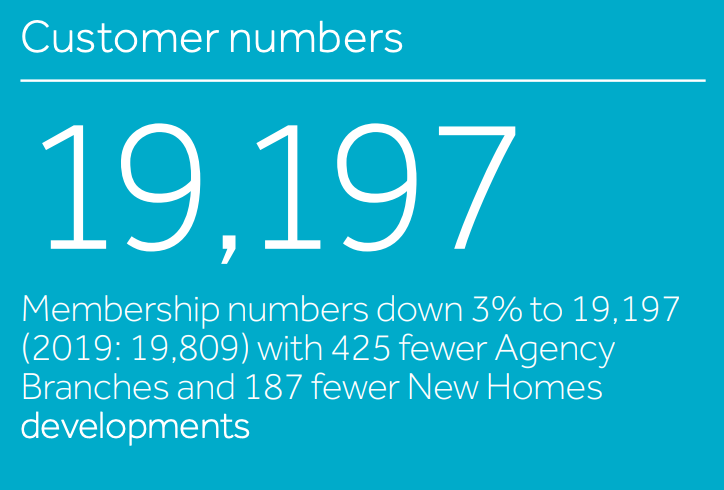 Peter Brooks-Johnson, the CEO, talks about the effects the pandemic had on Rightmove and states it best in their annual report:
"In a year in which we all stayed in our homes more than ever before, people continued to turn to Rightmove for their next move and for real-time information, helping us to extend our lead in the market. The record traffic and enquiries that followed the reopening of the market led to us sending 51 million property leads to our customers." Peter Brooks-Johnson Chief Executive Officer
Rightmove did more than just discounts for Covid, here's a list:
Hosted over 100 Webinairs. Attended by 29,000 property professionals from 5700 branches and viewed by a further 17,000 after they had finished. Attendance trebeled in 2020 and customer engagement the Hub (their site for agencies) increased with over 1 million page views.
2.2 million 'kick start' alerts to home hunters. These people were interested in property before the first lockdown, but due to the pandemic couldn't close.
Newsletter went from fortnightly to weekly, read by an average of 750,000 home hunters every week.
Ran Webinairs for the first time ever for consumers about home buying, sellers, renters and more.
When the property market reopened they saw recordbreaking traffic on their platforms. Since May they have had 231 record days of traffic and on 12 of those days visits exceeded 8 million, peaking at 68.4 million minutes spent on their platform in 1 day.
The TL;DR is that the property market was very bad for 2020, but Rightmove managed to:
Keep their agencies on board and interested.
Keep home buyers interested and waiting in excitement for when the market opens up again.
🏄‍♀️ Balance Sheet
Total Assets: 160444 (20% YoY w/ covid, 11% without)
Cash Assets: 96236 (29% YoY w/ covid, 9% without)
Total Liabilities: 37299 (-16% w/ covid, 1.57 without)
Current Liabilities: 23184 (-38% w/ covid, -15% without)
Rightmove is a very cash-heavy business. In 2020 the amount of cash they held far outweighed the number of liabilities they had. Rightmove can pay their current liabilities 4 times over, which is amazing. For reference, I am excited if a company's current liabilities are under 99% of their cash-on-hand.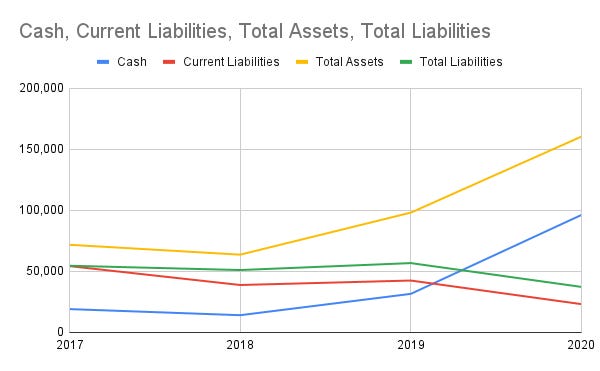 Rightmove's operating margins is very high at 66%, before Covid it was 74%. This means it is a cash machine.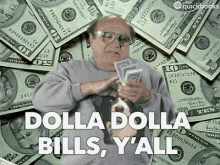 Rightmove's liabilities (its debt) are going down continuously each year, and its total assets are going up. Cash makes up 60% of their total assets. What would you like Rightmove to do with the cash? The first thing on people's minds is to diversify. Buy competitors, use that money to expand. But, there's only so far cash can get you.
Diversifying for the sake of diversifying will likely lead to diworsification. If they are spending their money on all the important things and still have cash left over, instead of diworsifying they can instead:
Create a dividend.
Buyback shares.

That's exactly what Rightmove is doing! It's too early in this essay to say if they are spending their money wisely, but I'd rather see a company reward its shareholders than to spew money to try and increase its revenue anyway possible. High amounts of cash will also let it diversify at the right time. Maybe their competitors don't want to be brought, maybe they can't buy them due to monopoly laws (remember, Rightmove has a 77% market share).
Look for companies that consistently buy back their own shares. - Peter Lynch
A great sign is the dividend increasing as this shows the company is generating more profits and is rewarding shareholders.

Due to the pandemic this is a bit iffy, but they are generally on an upward trend. Looking at their filing history they regularly buyback shares and cancel shares. By reducing the total number of shares in circulation it decreases the supply, increasing the demand, increasing the price.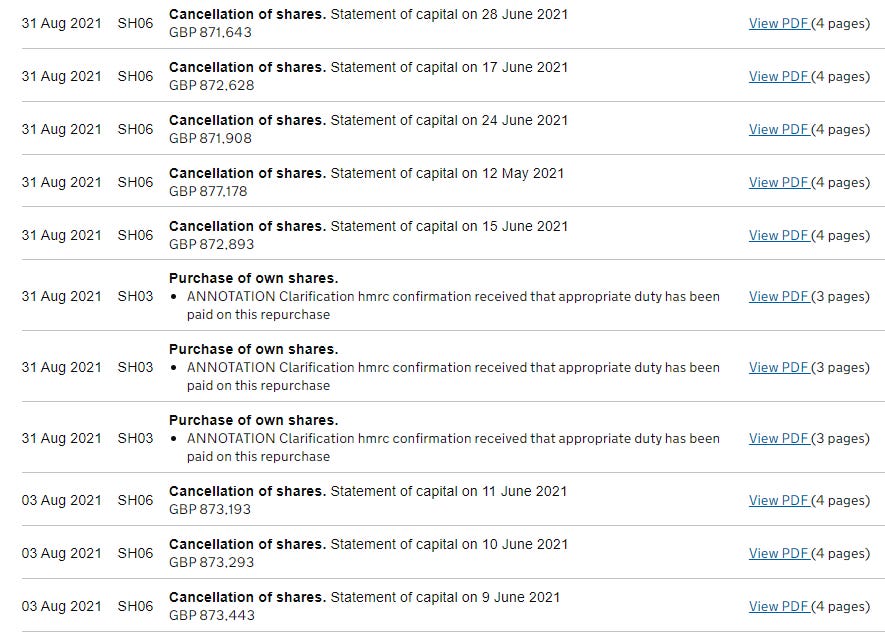 It's quite rare in this day & age to see a company care so much about their shareholders. Especially when there are billionaire CEOs who tweet something, crashing the stock and damaging the shareholders.
Elon Musk @elonmuskMuch is made lately of unrealized gains being a means of tax avoidance, so I propose selling 10% of my Tesla stock. Do you support this?7:17 PM ∙ Nov 6, 2021
---
138,201Likes24,821Retweets
Rightmove is buying back roughly 2 million shares per year since 2011, which is a great track record. Some back-of-the-napkin maths shows that Rightmove's share price, if Rightmove continually buys back shares, could increase by 50%. This is only including the share buyback scheme assuming the company and housing market do not change at all.
🌺 Cash Flow
Earlier (like, 3 paragraphs earlier) I said that Rightmove might be investing in itself already, but is being wise about how it invests in itself, leaving cash on the table allowing them to reward shareholders. The cash flow is exactly where we'll find out if this is true or not.
Operating Cash Flow: 184,224 (-2% w/ covid, 15% YoY without)
Financing Cash Flow: -141,210 (-58% w/ covid, 81% YoY without)
Free Cash Flow: 148,294 (-8% with covid, -7% without)
Repurchase of capital stock: -91,570 (-32% w/ covid, -50% YoY without)
Financing cash flow, they get in £180,000,000 and they pay out £140,000,000. This number can include dividends, so as we can see like any good lurker of r/ukpersonalfinance they are saving 20% of their income.
Free Cash Flow is very high, but thankfully it is decreasing. This means the business is reinvesting some money into itself. However, only around 8% a year is being reinvested. I think the company is quite lost on what to do next, as if it had a clear plan it would use its enormous cash piles and the free cash flow to finance that.
Free Cash Flow is going down, but the repurchase of capital stock is going up. Likely they are spending more to buy the same amount of shares (as share prices increase 🚀🌝).
As expected every year they are spending more & more on share buybacks. This is either because they're buying back more shares, or the share price has gone up. It's likely because the share price has gone up, as they aren't buying shares any faster than they were back in 2017.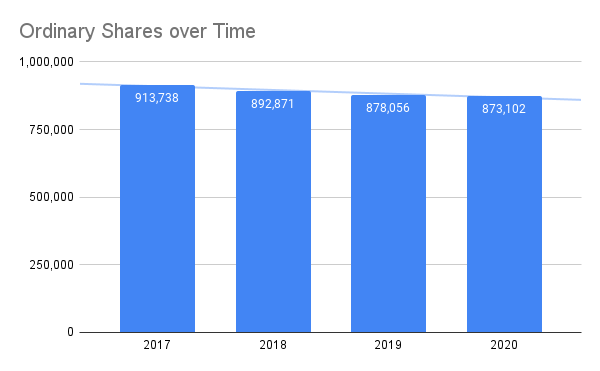 🙇‍♂️ Financial Conclusion
In short:
This is a cash cow business that generates insane profits with madder margins.
Real estate agents are continually investing in new tooling every year, spending more on average.
They have very little debts and the debt they do have, they can pay 4 times over and still be fine.
They're investing money into themselves but still have leftover money, so instead of spending it on silly things like diworsifying they reward shareholders.
Let's take a look at their products and see if they've released anything cool in the past few years.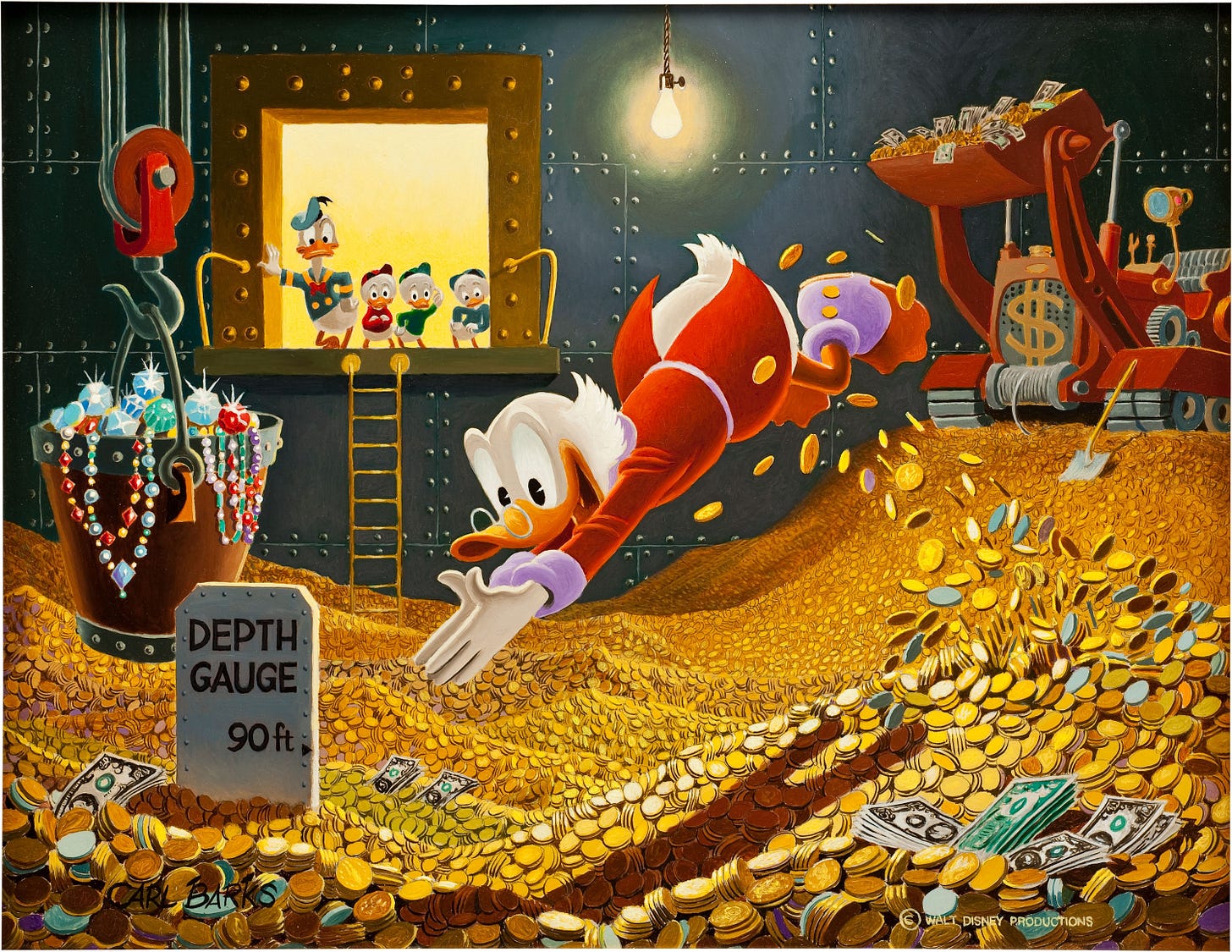 ☎ Products
The first product is the one that everyone knows about. If you're in the UK, chances are you've used this. It's their consumer-facing website!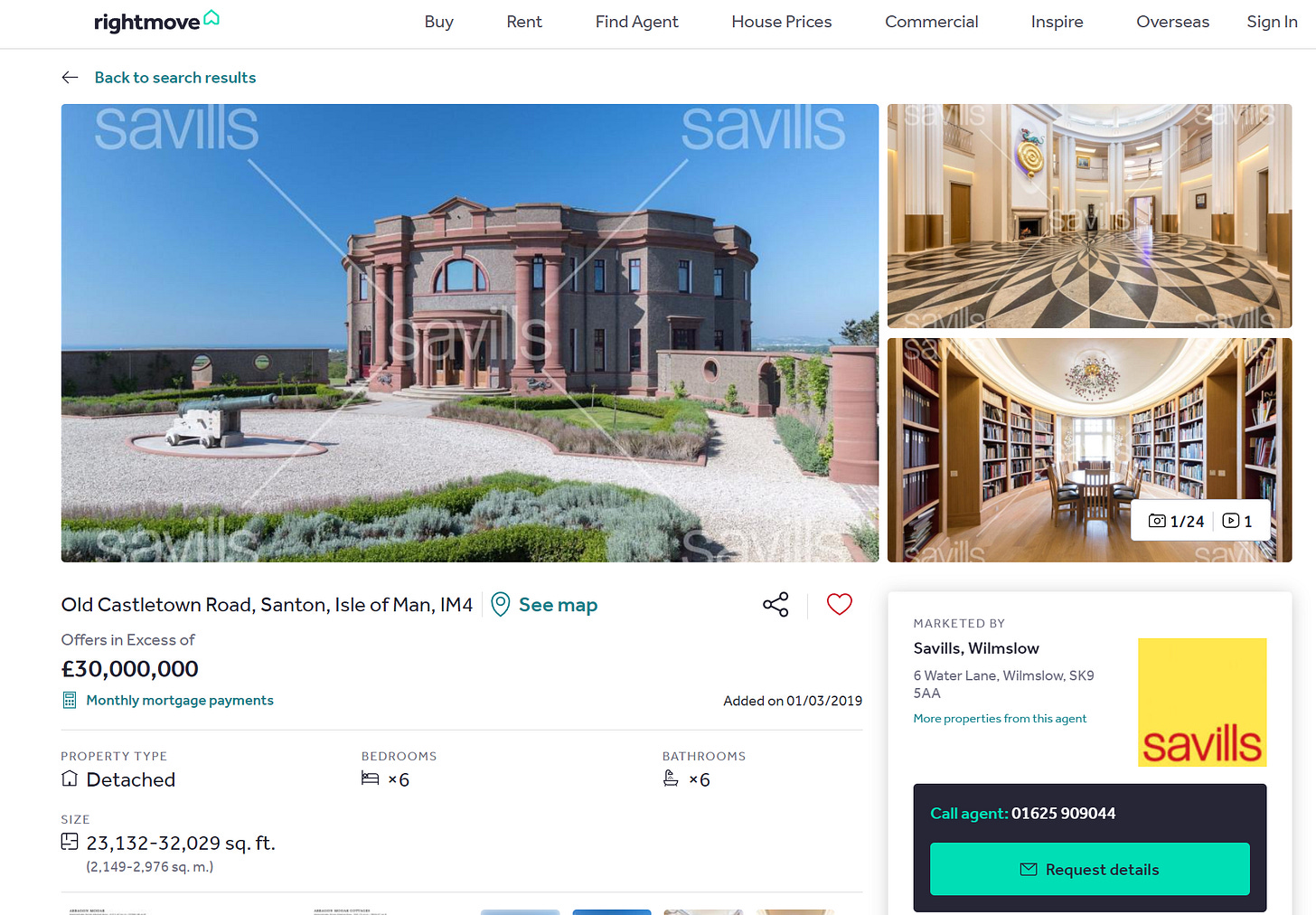 You input the location you want, whether you want to rent or buy and you add some filters if you'd like (I found some money in my jeans in the wash, so I set the filter to £30 million and above) and Rightmove will show you places. The big advantage is how many places Rightmove have.

Rightmove has so many properties on it other websites can't compete. This is the biggest product to the consumer, being able to see everything for sale. But, consumers do not make profits for Rightmove. What do agents get?
🎣 Network Hooks, or why Rightmove will always be #1
Let's talk about Rightmove's cycle. With any good Software as a Service, it scales with the number of users. I call this a "hook".
A network's value is proportional to the square of the number of nodes in the network. - Metcalfe's Law
A typical example is Apple. Users use the iPhone because it has the best apps, developers create apps on the iPhone because it has the most users.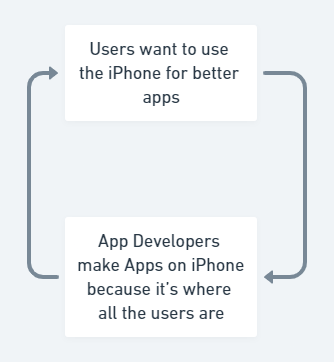 Rightmove's hook is similar.
Users use Rightmove as it has the most houses.
Agents use Rightmove as it has the most users.
These 2 continually reinforce each other and force the network to grow exponentially better.

Rightmove is effectively a social network. The more people that use it, the more valuable it becomes. Keep this network effect in mind, as I'll show you how this is Rightmove's killer feature — and why this allows Rightmove to keep a stranglehold on the industry.
🕴 Agents
Agents are the intermediaries between buyers and sellers. Sellers cannot directly advertise to buyers on Rightmove, so you need to go through an agent.

All the online portals do not allow customers to sell their houses directly, which means they must go through an agent. It'd be better if you could sell directly to the buyer, but you can't. This means 2 things for Rightmove:
They have a continued income stream from agents.
There is less risk that sellers go to a different online portal to sell directly, avoiding the agent as none of the online portals does this.
This makes the current in Rightmove's cycle, the network hook, even stronger. The pricing for agents comes in 3 packages, which are detailed:
£1000 per month per branch, essential package.
£1450 per month per branch, grow your market share package.
£1750 per month per branch, lead your market package.
I couldn't find what each package specifically contained.
📊 House price index
Every month Rightmove publishes, for free, their house price index. This is a free report on how much houses cost on average for first time buyers, second-steppers and the top of the ladder.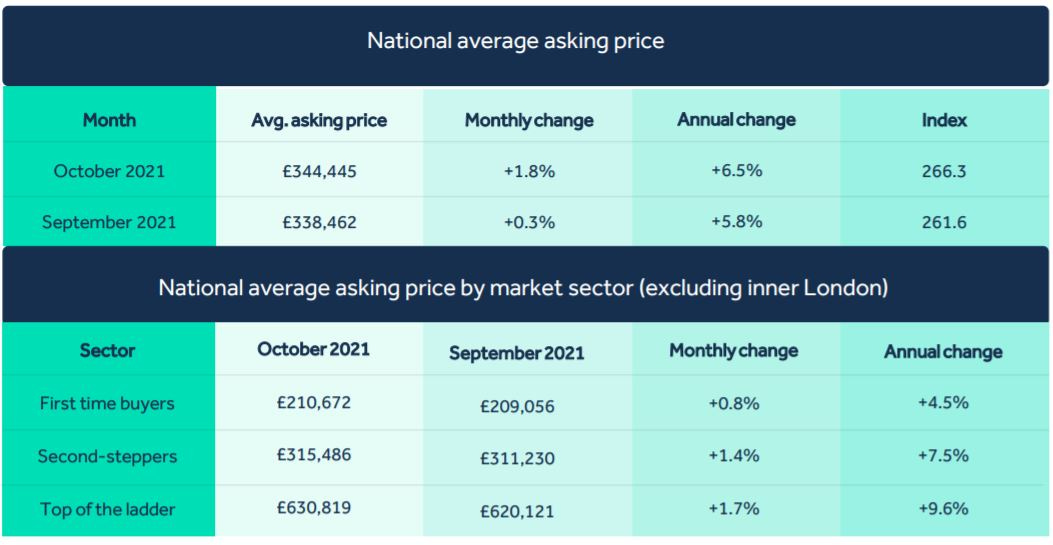 Not much else to it, so let's move on.
📅 Big Data
Rightmove is a social network for buying and selling houses. This social network has a hook which means the users benefit from more agents. and agents benefit from more users. This continually improves the experience for both users and agents.
Rightmove, effectively, has the biggest private dataset of houses, sellers, buyers, and agents in the UK. It makes sense then that they have turned this into a big data product, allowing agents to learn more about the houses and general industry in their local area.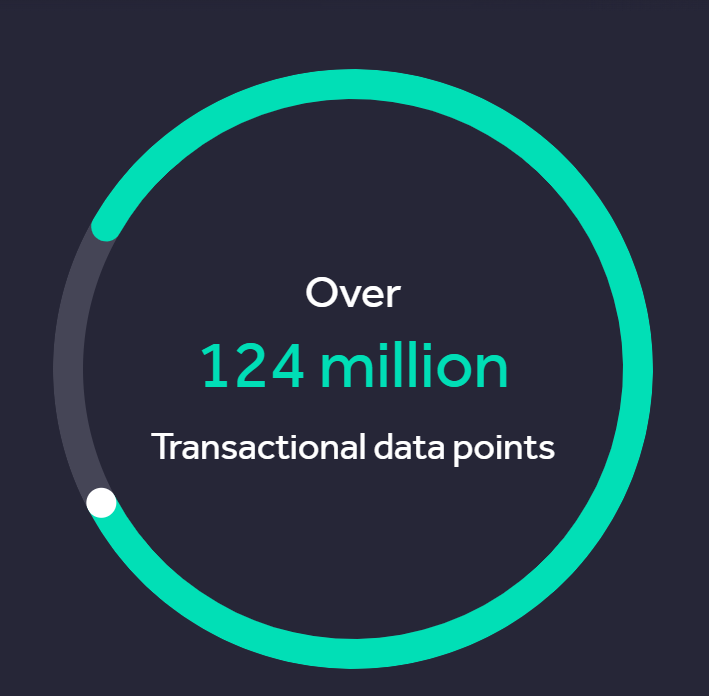 They have 6 different data products, so let's just rush through them.
Market Intelligence Centre - Identify investment, land and building opportunities
Bespoke Data Analysis - Support property and investment decisions at all scales. The custom report built by their specialist team.
Development Insight Report - Support land acquisition and building decisions. The consistent report built by our specialist team. Market Intelligence Centre = online portal, this report is hand-built by their team for your business.
Surveyors Comparable Tool - Support full or desktop valuations supplied to lenders. Basically, this allows you to create reports to support your expert surveyor valuations and helps you identify price discrepancies with similar properties. Used 200k times/month.
Automated Valuation Model - Don't fancy paying a surveyor to value a property? This tool will work one out for you. Used on 400k properties per month. In Rightmove's words "…automated valuations backed by Rightmove's proprietary data and Land Registry / Registers of Scotland data. Each valuation is accompanied by a confidence score which can be used to assess the suitability for use in lending decisions."
Property Risk Alerts - Understand potential underlying risk factors when assessing a property, such as "environmental (fracking, HS2, flood risk), lending criteria (new build, year built), market, recent activity, idiosyncratic (thatched roof), valuations (hidden incentives, lower asking price)"
All of these tools allow agents to make better decisions. Which properties should they buy, how much is the property worth? Are there any risks? What if you wanted to buy some land? What risks are there? What are the best investments in your area?
100 investors, consultants and builders use Rightmove's bespoke features each month. Some of these tools are used over 400,000 times a month on properties.

Rightmove is effectively utilising their data for agents, creating an even bigger incentive for agents to use it.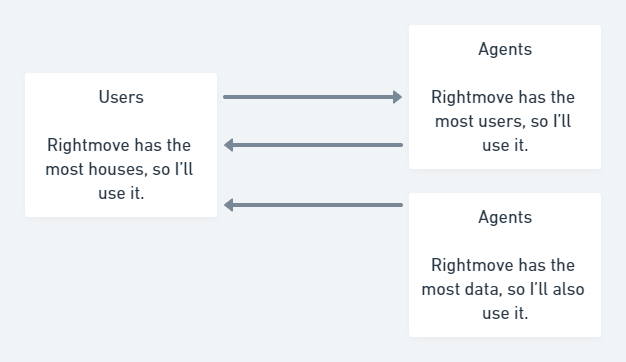 Now agents will want to use Rightmove because it has both the most customers and the best data to allow them to make decisions. Why pay for a competitor when Rightmove has everything?
Now, here's where I think Rightmove should expand.
🍉 Consume facing big data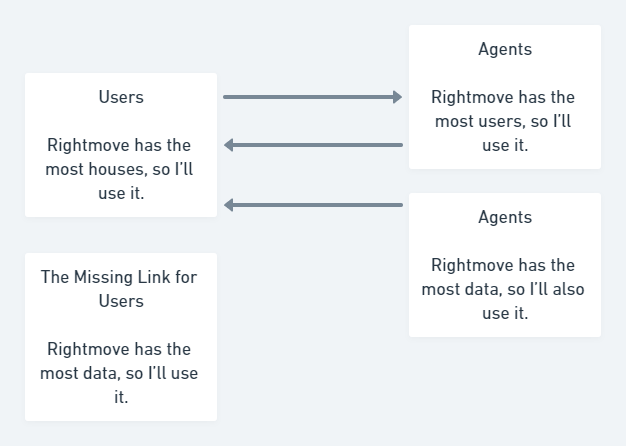 Rightmove provides some data via their monthly house pricing report, but it's not all the data they could provide. Imagine you, a consumer, looking to buy a house or rent. You'll want to know these things:
Price history.
Pricing of similar houses.
How similar this house is to others in the area (Rightmove can use the floor plan etc to find this).
WiFi speed.
Whether the house will likely have any problems (Property Risk Alerts)
What the property should be worth (Automated Valuation Model)
And, if you're lucky enough to be considering living in a house as an investment you'll also want to know:
Is this area up-and-coming?
Are the prices increasing here?
Roughly, how rare is this house? Rare here means "good". You could be in a great area with a bad house. Rightmove can use the floor plan and big data to say "the house next to you is worth 1 million, but this house is worth 1.15 million" using their valuation model. Effectively, this is how NFTs are priced on crypto exchanges — except it's a real house 😜
I personally would happily pay a couple of hundred pounds if it meant I could get access to this data. £300 to choose a house without major problems, which is fairly priced, which is expected to go up in value a lot. It's worth it in the end. Some of their products target "investors", those with 20+ houses. I'm talking about people with 1 house, just moving up the property ladder or getting started on it.
I think providing big data analytics to consumers as well as agents is the next big step here. Rightmove is in a unique position to provide this data, and if they add this to their cycle it'll create an even stronger stranglehold over the UK housing market.
PS: It might be cool for Rightmove to have consumers tell them what their perfect house is (within their price range) and then Rightmove emails it to them if they detect a similar one using their machine learning algorithms. I'm not looking for a house, but if Rightmove emailed me out of the blue with the perfect house for me…. Well, I can't afford it. But if I could, I would totally consider it!
📰 Advertising
Let's say you run a course teaching people how to flip houses, and you've never actually flipped a house or even been inside one. Instead, your "master" taught you how to do this. So, like the good citizen you are — you sell the course for £999 to people who want to learn how to flip houses, despite the fact you've never done it yourself.
How do you target the right audience? The easy answer is to advertise on Rightmove's website. Rightmove has no other adverts than the ones people pay them directly for, so it's a greater share of attention.
Rightmove does more than just place the advert on their website, though. They also use Google Marketing to target people even after they've left the site.
Rightmove is the #1 property website in the UK by far (go back to our introduction to see how far that is. This is the best way for anyone in the UK to advertise directly to people interested in properties.
🛍 Commercial advertising
Rightmove Commercial is advertising but specifically aimed at companies looking to buy or rent commercial property.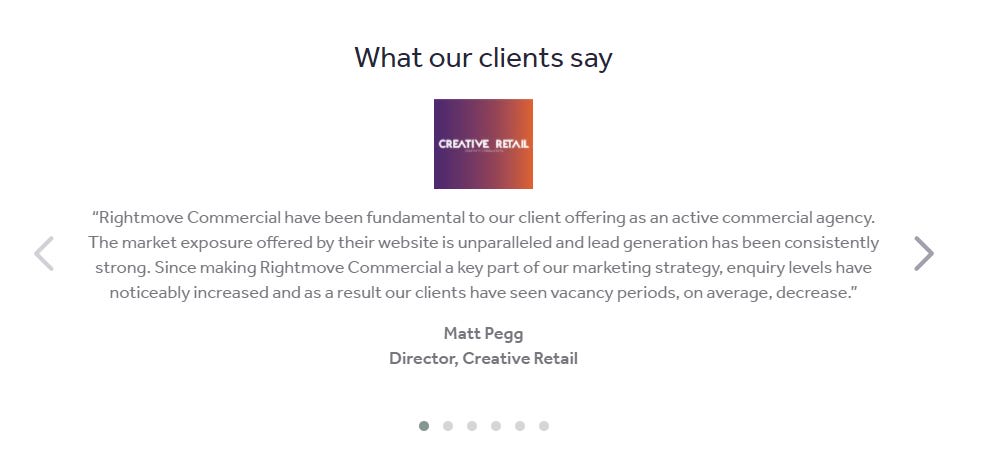 Rightmove has a bunch of fun statistics related to this:
32% growth in commercial users in 2021.
3.5 million Rightmove commercial visits per month.
600,000 leads are sent a year for commercial properties.
Rightmove also offers commercial advertising customers access to their market data, which as we saw earlier is likely the best data in the UK.
🌐 Webinars
Rightmove also hosts a range of webinars for agents, property developers, investors, and first-time buyers.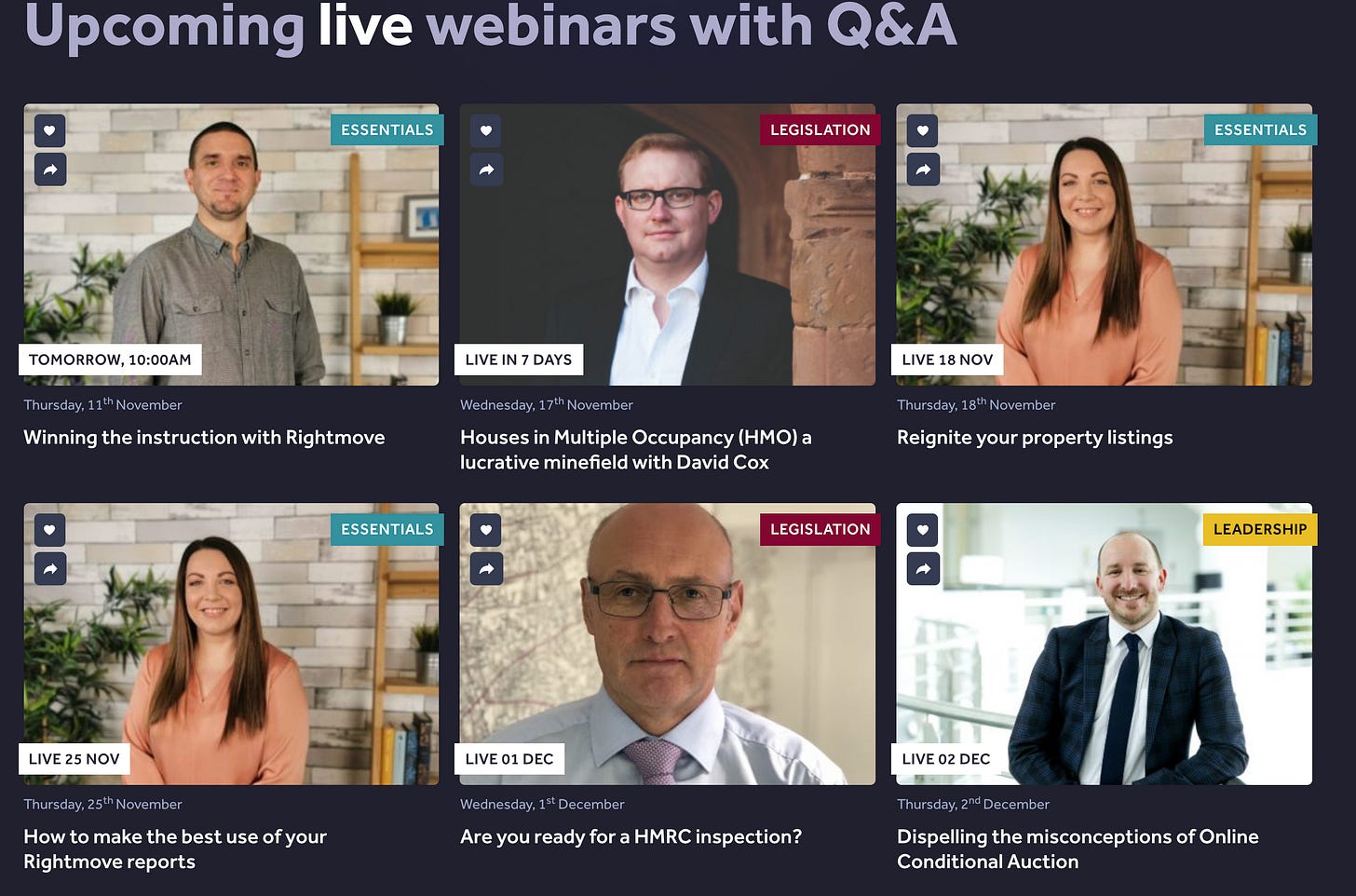 This not only trains people on Rightmove but encourages them to use it. I imagine for webinars like "are you ready for an inspection?" they might shill Rightmove's Property Risk Alerts product.
🏝 Rightmove overseas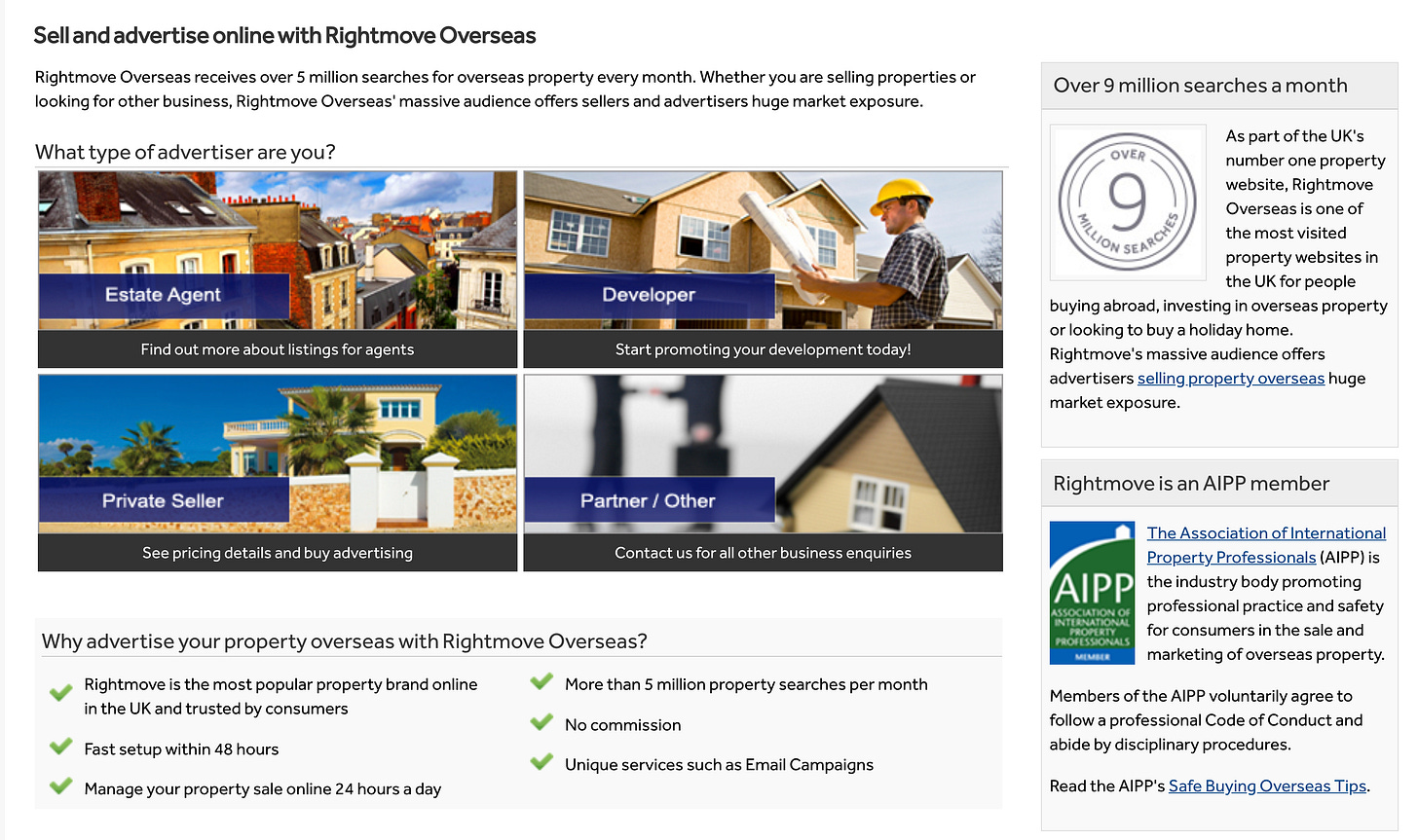 This website looks outdated, but you can advertise your properties overseas on Rightmove. Not much else to it, although I'd expect they revamped this website a bit in the future. It looks quite old.
🔨 Rightmove jobs
Let's take a little look at their jobs, they have some interesting facts scattered in their jobs descriptions. Firstly, they call employees gnomes. Based on this fact alone the share price is likely to reach £4400. Just kidding. But seriously, let's take a look!
I won't show you the job descriptions, but I'll pick out the things that could affect the stock price.
Extending our application platform from a multi data centre model to hybrid cloud, evolving core architectural patterns to provide integration between these distinct environments.
Looking at this, Rightmove uses physical data centres to host its site. They're looking at hybrid cloud, which means a part of their data centres will be moved to the cloud. This can save money over the long term as it enables economies of scale. Hosting a machine on AWS is much cheaper than physically buying it, especially if you take into account discounts and spot instances.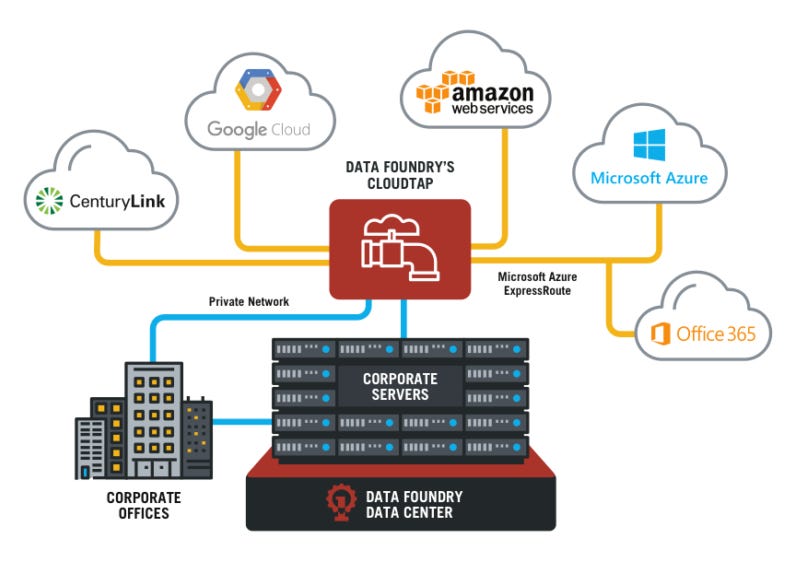 The TL;DR for you non-techie people, this means:
Cheaper tech, meaning they save more money.
Easier to scale, so they won't spend so much money on buying more computers.
Less downtime. I can assure you that reaching the same amount of uptime as Amazon is much, much harder than just using Amazon. This means it is both cheaper and provides better products.
Creates a faster product. Can do things like "at-the-edge" computations.
Easier to scale out to other countries. If your entire setup is in a single AWS region (London), you can deploy to another country rather easily (not one-click, but way easier than physical data centres).
Note: They probably use a data centre set up as Rightmove was invented in 2000, 2 whole years before AWS started (the first infrastructure-as-a-service), and 5 whole years before AWS became serious and created a product people wanted! (this product is S3, if anyone cares).
In fact, from another job description of theirs:
We strive to deliver annual availability of at least 99.99% (less than 5 mins downtime a month).
For reference, AWS S3 (think Dropbox but slightly different) has a Service Level Agreement of 99.999999999%. While their entire platform may not reach 11 9's (as it's called in the industry), it certainly will help using services that do.
Migrating our Docker application platform into Google Kubernetes Engine (GKE), defining how we will deliver, orchestrate and monitor applications within this platform.

So they probably use Docker Swarm or Kubernetes locally, migrating it to Google Kubernetes Engine (a cloud provider). Again, cheaper costs, more uptime, way less is needed to maintain this. I can tell you from experience maintaining your own Kubernetes cluster is a pain. Paying someone else to maintain it for you is far cheaper than having engineers work full time on Kubernetes maintenance.
TL;DR
Engineers have time to work on more important things, meaning Rightmove can expand faster.
Easier to scale to other countries, easier to scale for more traffic, less costs.
Working to redefine our API strategy, allowing us to easily extend functionality beyond Rightmove boundaries and work more efficiently with our business and technology partners.
:party: New product alert! Rightmove currently has an API, but building on and improving it means businesses will want to use them. This adds more to our cycle, as it's another reason to use & build on top of Rightmove. This is a metric to watch out for.
Building infrastructure as code modules to develop and optimise our cloud platforms
Just a side note, but infrastructure-as-code is very nice. Basically, if you deploy the website to a server you'll have that written in code. It's much easier to expand to another country when you already have all of this infrastructure in code. Ideally, it's as easy as `terraform deploy` to that countries region. It probably isn't, but it's certainly a lot easier to expand than if you didn't use Infra-as-code. Imagine being told, "move everything in this house to the USA". You'll have to spend time learning what's in the house first. This code means you already know. Speeds it up.
They use Terraform for infrastructure-as-code, which is owned and maintained by Hashicorp. Who are IPOing soon, keep an eye out for that article — it's my speciality 👀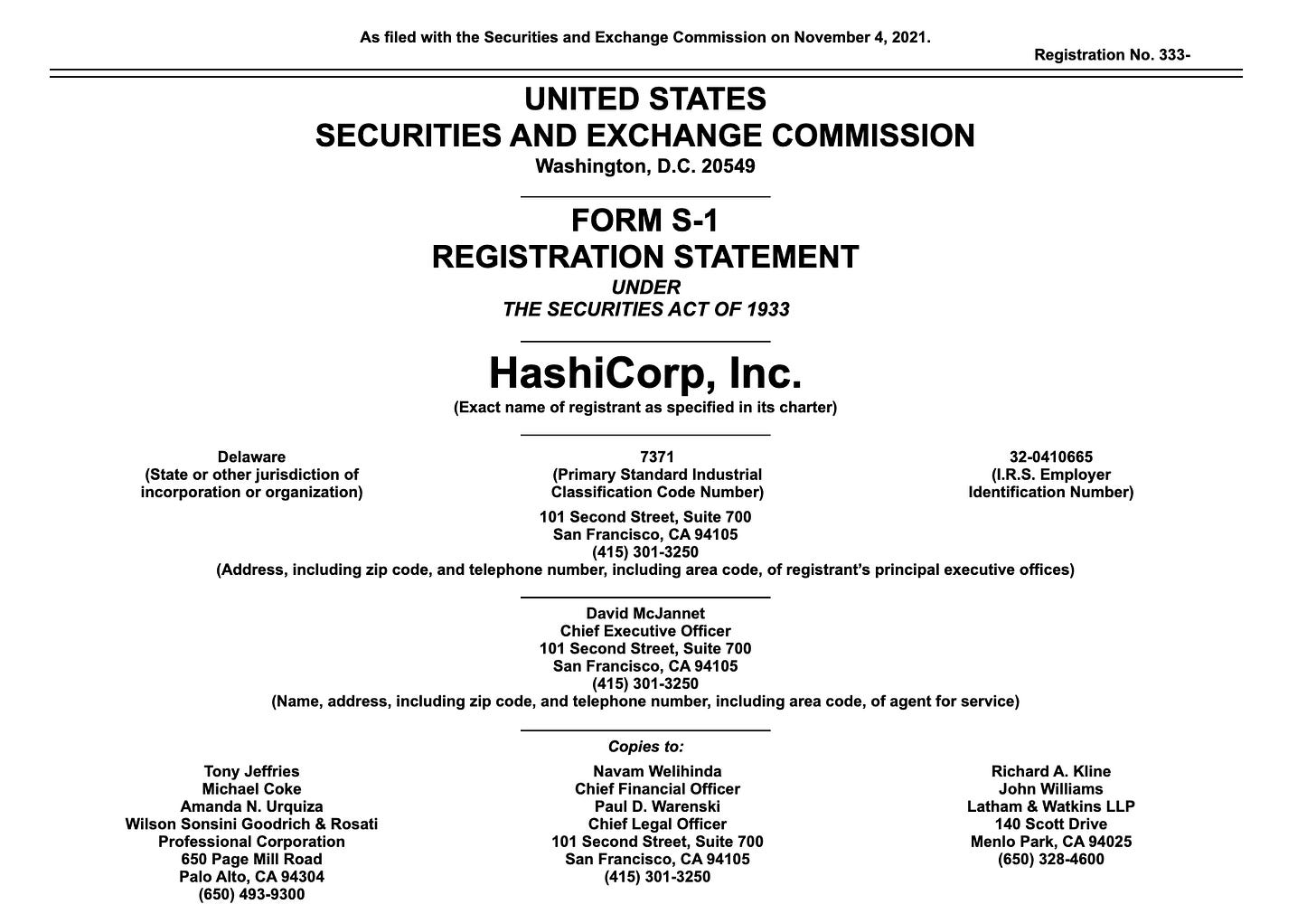 As you may be able to tell looking at job applications is an easy (and cheating) way to determine:
Is this company growing?
If they are growing, what are they growing into?
An even better way is to talk to the engineers that work there or follow them on Twitter. Engineers love nothing more than complaining about the new technologies they have to learn, and thus accidentally leaking what new products they are working on 😉
We can clearly see from Rightmove's job descriptions that they are focused on:
Cutting costs.
Freeing up engineers time to work on more important things.
They are doing everything right to be able to expand.
Possible new product around the API, which would definitely increase the number of businesses using Rightmove and their profits.
🥊 Competition
As we saw earlier, most of the online property portals do not have the SEO required to be a serious competitor, bar Zoopla. Zoopla has around 40% of Rightmove's traffic at 50 million (Rightmove has 120 million).
In my personal experience, Rightmove simply has more properties for consumers.

This means I am likely to start on Rightmove and then visit a competitor, then the other way around.
💯 There's always room for more competitors
People are sometimes silly. They often think "it's this or that" but it never quite is. As an example, we have:
Visa vs MasterCard
Monzo vs Starling
Revolut vs Wise
Amazon vs Google
Netflix vs Disney
Facebook vs Twitter
TikTok vs Instagram
Competition is rarely as cut-throat. A rising tide lifts all boats. There is room for competitors, and it is very unlikely one of Rightmove's competitors will completely kill the company like many people think they will. I can promise you in these companies they are not obsessing over what the competition is doing like it'll kill them, they're just vibing and improving the industry.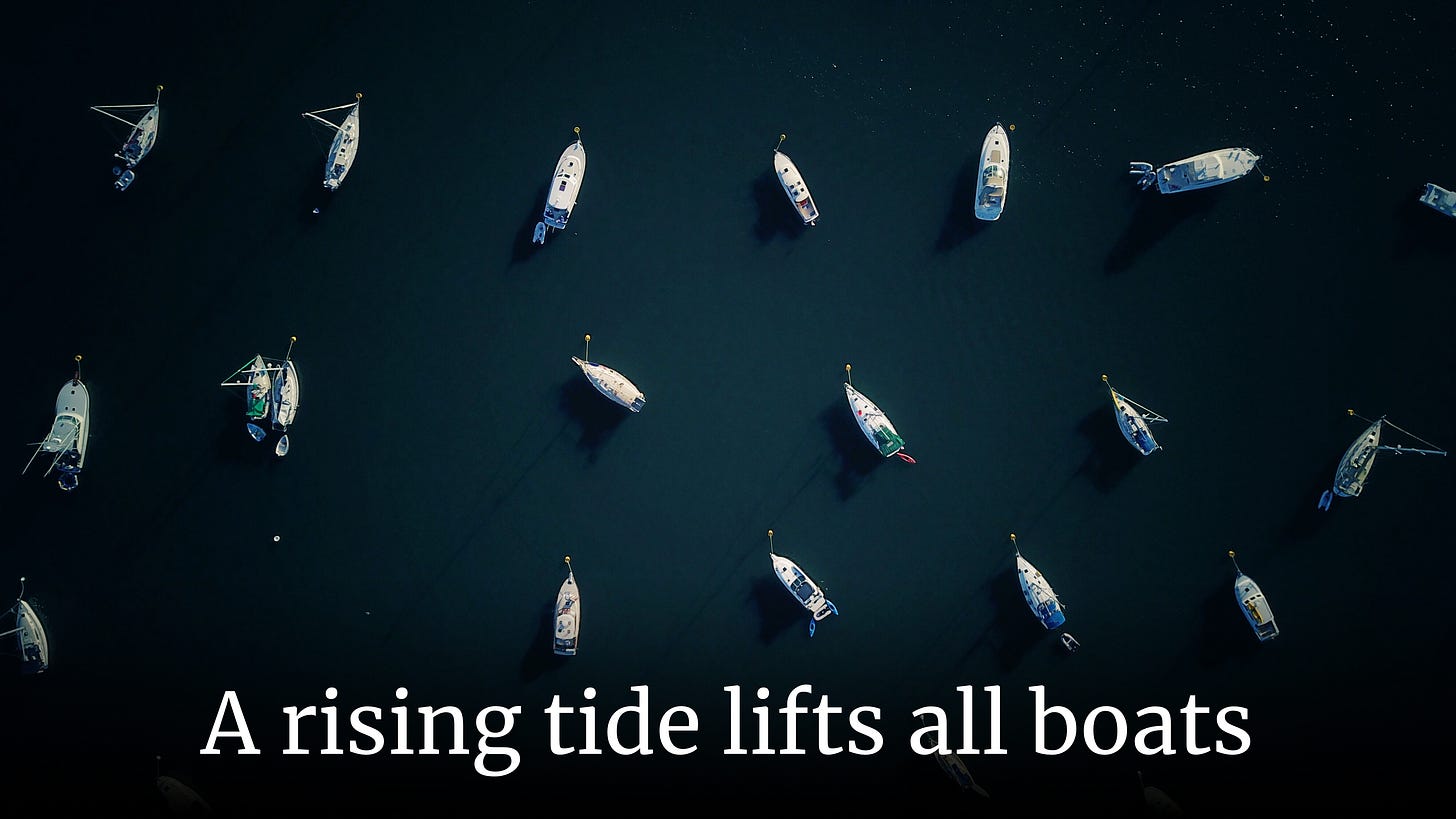 🤔 What do agents think?
Basically, I went through a bunch of reviews of Rightmove and found these 2 very negative reviews from agents, I suggest you read them.
Rightmove has got it all wrong and now the trust has gone where does that leave everyone?

In the past week I have had communication with or from over 500 property professionals, CEO's, sole traders, men and women in the front line of the business, tech companies, other analysts, you name them I have been talking with them. As many know I have for some time said that the real estate relationship with Rightmove has become a toxic, abusive and one sided, and that a major fault line was pushing the two parties wider and wider apart.

For sure since 2006 when Rightmove became a quoted stock, the share price had until a few weeks ago rocketed by 1,500%, and in February 2020 hit 691p a share, but now at 470p a share with a likely revenue hit of 75M plus, shareholders and the c-suite of Rightmove might realise that the gravy train has just hit the buffers.

Many that I spoke to say that with over 130M visits a month to the Rightmove website, the brand strength and the public's pre-occupation with 'Property Porn' means that as the Property Portal heavyweight, nothing can stop it. Well Covid-19 just has, faced with a long journey ahead agents looking at their fixed cost model of agency, suspiciously eye the large ticket cost of Rightmove, often in the top three of a branches costs after salaries.

Agents now realise that with the proliferation of 'free to list' portals, their £1,100 plus as an average branch spend, is in fact nowhere near its true price point. The other thing that everyone talking to me says is 'Rightmove has itself never moved' in that it has no evolved, it is just digital shelves rammed with goods/listings supplied by the agents.

How will it end? Well in January 2016 the share price was 402p, and in the following years it was 390p, 450p,474p and in 2020 642p (peaking at 691p a month later) so an adjustment to 470p was likely at some time in 2020 anayway. Now though – agents are going to leave Rightmove, and those that stay are not going to want to pay anywhere near £1,100 a branch.

Luckily I am neither a shareholder or in the Rightmove c-suite, but if I was on the management team the first thing I would do is what I do … listen and engender debate, find out what your customer wants and needs and provide it – do not put your fingers in your ears and keep putting up the prices. Or people like Kristjan Byfield who is the kindest and gentlest and most considerate and well respected property and proptech professional will give you your P45.
And
To all fellow business owners;
This is your chance to knock these (Rightmove) shysters off their self elevated podium. They (Rightmove) have ripped us off now for years and years. Rightmove have this year increased their fees by nearly 10% for no other justification apart from corporate greed and the FACT that they have us business owners over a barrel.

They (Rightmove) have their own greed to blame that they have got this so badly wrong!!

I urge ALL business owners NOT to take their 75% discounted deal and not pay them (Rightmove) at all.

To OTM and Zoopla; learn but Rightmove's mistake; don't take your market for granted!! Our industry is now in tatters, we are looking at 3 months plus of no money. Completions and move-ins are urged to be delayed. The answer is simple; don't be greedy!!

My message in short; cancel your direct debits fellow business owners and make these corporate muggers go bust. This is the best chance we have been waiting for for years!
I think this is fair, but sadly Rightmove still controls the majority of the market. I think this is because Rightmove is charging the same amount for every agent, even though not all agents make the same amount of money.
Some price parity, friendly discussions with agents and displaying more clearly how their service is a value-add will be good here. Rightmove's average revenue per agent is increasing and so is their market share. So these opinions are an outlier, but definitely something to keep an eye on.
❌ Say No to Rightmove Movement

There was a movement last year where a bunch of agents fought against Rightmove. The premise of this movement was:
We want to see Rightmove set a tariff-free period for their members during this Covid-19 crisis, and longer term to help shape a fairer property portal market.
It seems Rightmove added the Covid discount and their entire movement is dead. No blog posts, tweets, or anything since late 2020. Doesn't seem like a threat anymore, and I wouldn't blame them if Rightmove did expect agents to pay the full package despite the housing market being shut down in 2020.
✍ Competition Conclusion
I honestly do not think Rightmove has any serious competition. I'm not alone in this position. Even if Zoopla. On the market etc release amazing features, Rightmove's moat is their users and agents. Even if Rightmove becomes the worst in terms of features, they still have the user base and people will still use them.
Most agents advertise on multiple portals, so it's unlikely they'd leave so quickly. I think in the absolute worst case you'd see Rightmove begin to decline over a 3 - 5 year period, which is plenty of time to get out.
Pick a business that any idiot can run, because sooner or later an idiot will be running it - Peter Lynch
Rightmove can be run by an idiot. Just keep the website up and agents will use you, customers will come to you, you'll make a profit. Even if the idiot does nothing at all or tries to damage the site, it still has the user base to survive.
Most of Rightmove's daily news is related to houses in local areas. Local newspapers will publish articles like "10 amazing houses you won't believe are on sale in Essex!" and they'll all be links to Rightmove.
This is a big cultural shift. People use Rightmove and talk about it like it's an essential part of their life. While it's not become a noun, it has become the first place people visit for anything related to housing.
😟 Risks
Underlying Housing Market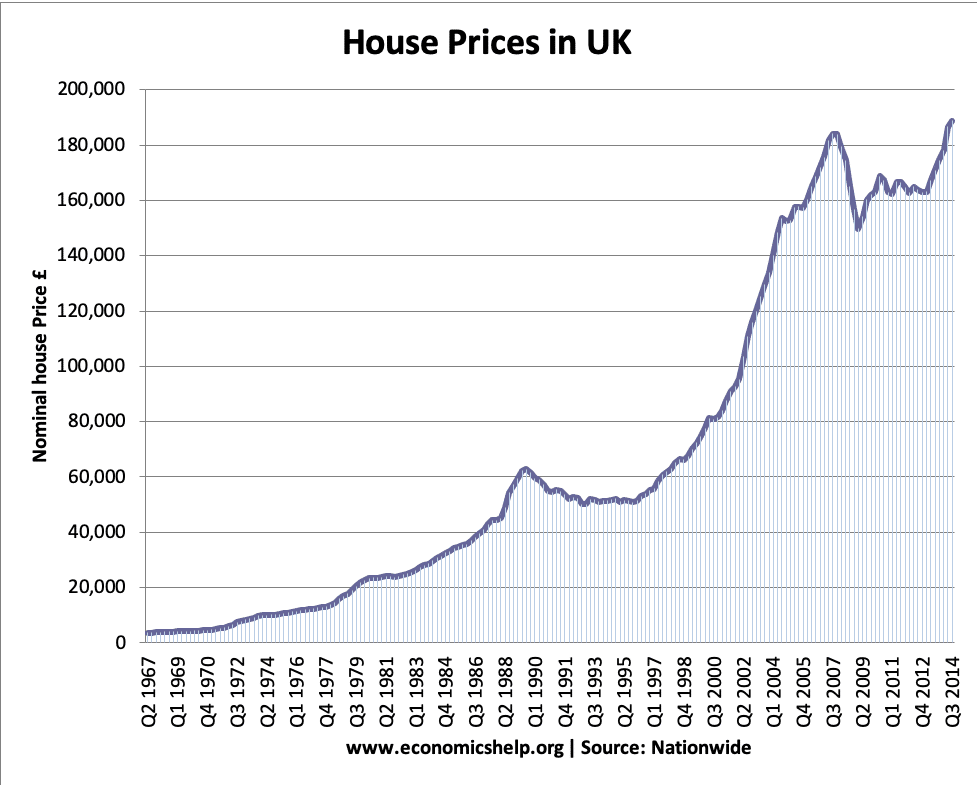 Obviously, Rightmove is affected by the underlying housing market. People not buying houses, Rightmove's profits go down. The company would find it difficult to meet its potential in the next 5 years. This is also an advantage. Rightmove is a fast-moving tech-first company in a slow-moving market. The housing market. You get exposure to the housing industry of the UK while also investing in a tech company.
Thankfully for us, Rightmove is 20 years old. Looking back at its books from 2008 - 2012 (the last great housing market crash) Rightmove's revenue doubled from £57m to £120m. Housing is a cyclical industry, but Rightmove seems to have ways to avoid this and weather storms, producing profit even in the worst financial storm.
💸 Premium Valuation
Rightmove has been a kingpin in this industry since it started in 2020, and it's trading with a P/E ratio of 55 currently. A higher P/E ratio shows that investors are willing to pay a higher share price today because of growth expectations in the future.
The big question I want to answer here is:
Is all the future growth already priced in?
So far, Rightmove seems like an amazing company. But anyone can look at their books and decide to invest. Investors may be investing today for its expected growth up to 2030, which means we won't see a profit until then.
I generally do not perform the mathematics required to calculate the intrinsic value of a stock but in this case where it's:
An older company.
Easily understandable business.
Great financials and story.
High P/E ratio.
I feel like I have to, as I want to make a profit on this 😅 Let me introduce you to a cool tool, https://simplywall.st. This is one of those "we calculate everything for you" tools. We'll take a quick look at their valuation for Rightmove.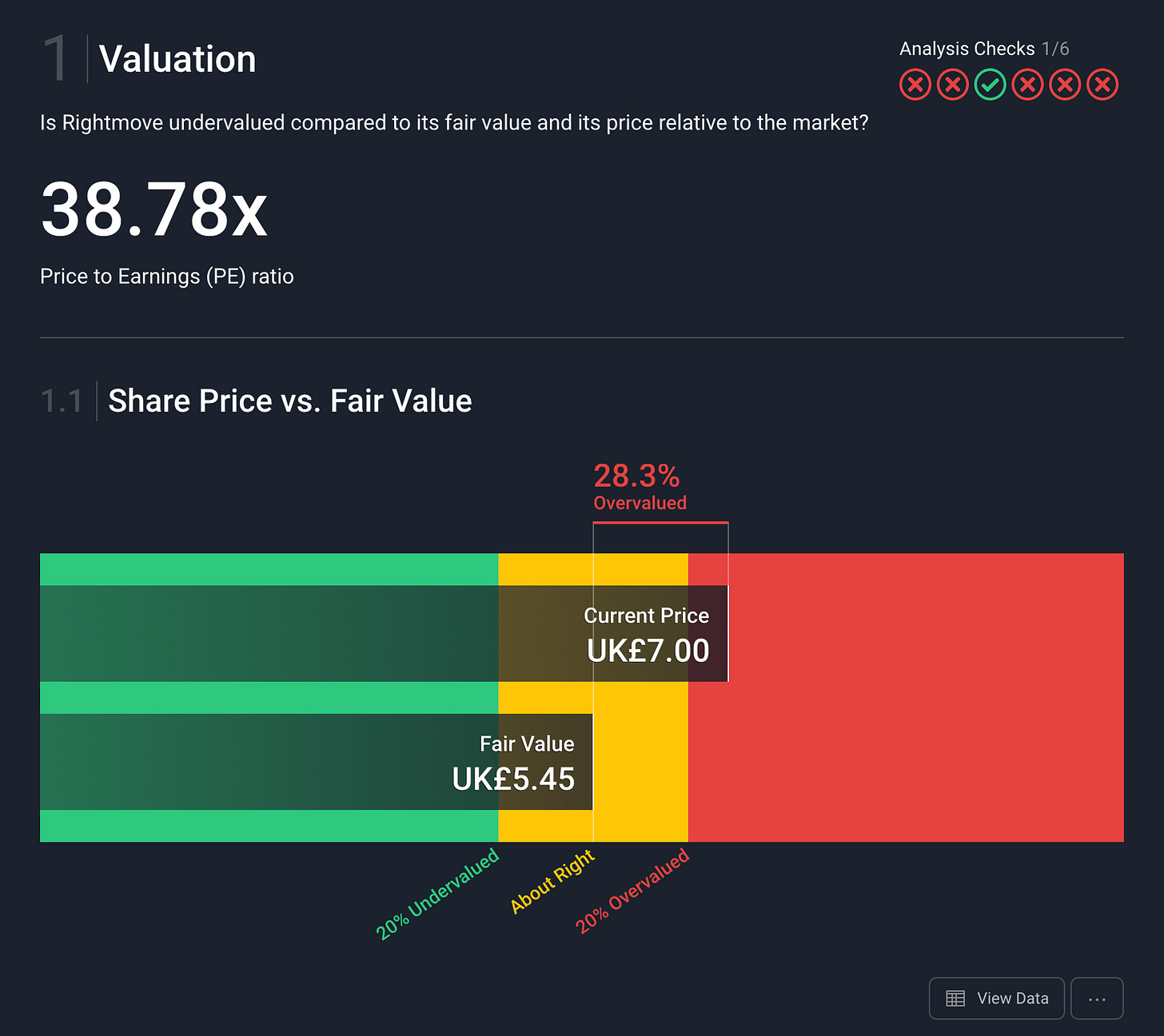 They believe Rightmove's fair value of the stock is at £5.45, which is above the current price. And currently, the stock is overvalued. Aha! The problem is that they're being valued as a "media" company if you click on "view data" you'll see this: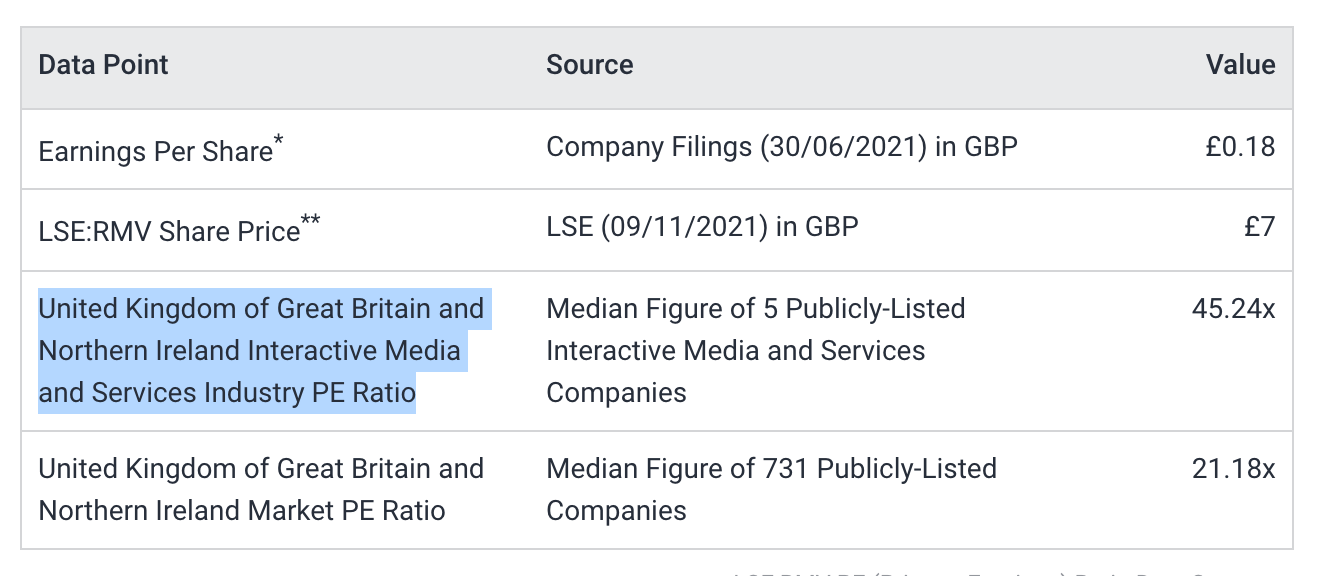 Unless I have missed it, Rightmove is not the next BBC. So that means we have to perform our own analysis. The thing with these intrinsic values is that they are all opinionated. Half these numbers we just pull out of the air. You should never trust someone else's unless you can read the data that went into it. I don't know how to do this off-by-heart, but I am fond of the below video and will use it here to calculate Rightmove's value.
These are our numbers:
EPS TTM is 17.6.
The growth rate is 23.70% over the next 5 years, this is what the analysts think.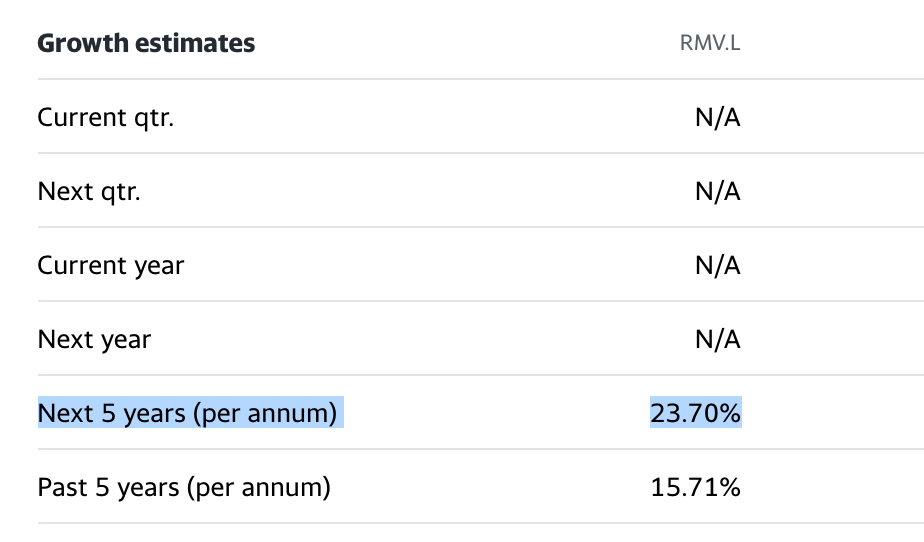 The minimum rate of return, how much do we want the stock to grow? For example, if the stock returned 5% a year we'd be better off in an index fund. I set this to 15%.
The margin of safety at 50%. If we are wrong, we have an incredibly large margin of safety.
The P/E ratio over the next 10 years. I am using Phil Town's suggestion of 2 * the growth rate, which is 47.4.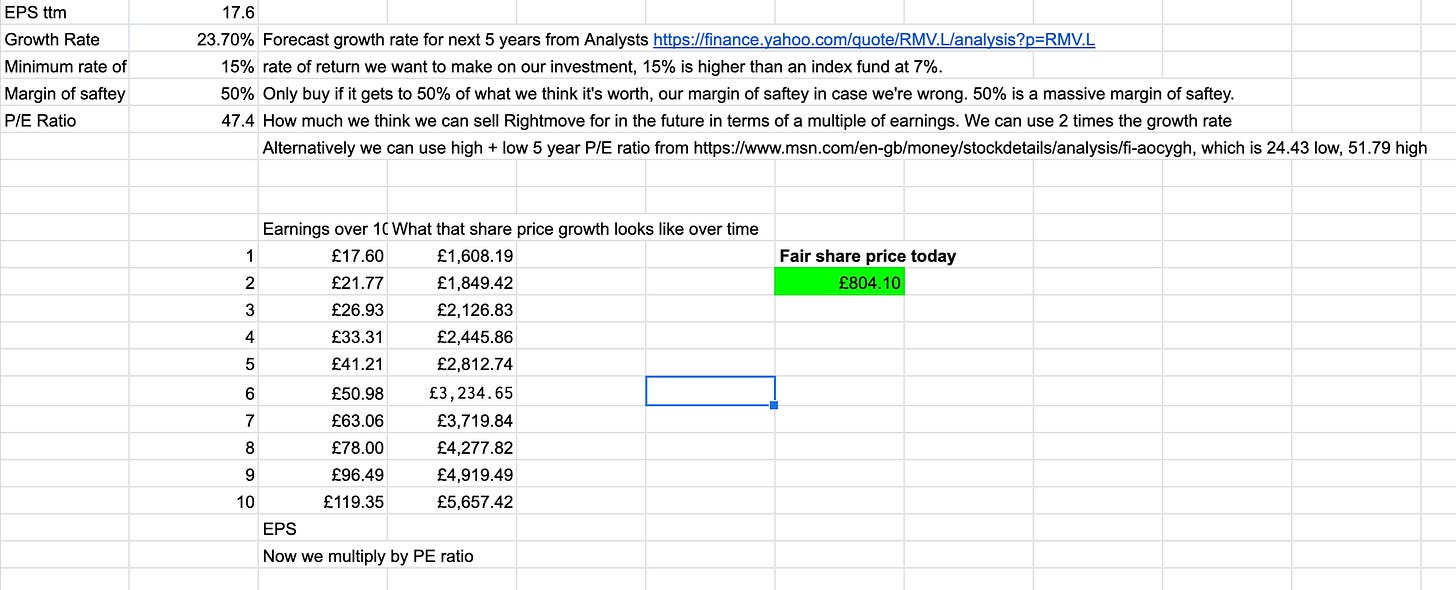 Given all this, I have calculated the fair price to be £804. Obviously, that's way higher than £7, so let's take a closer look at our numbers. Let's change the P/E ratio to be the average of the highest and lowest P/E ratio in the past 5 years.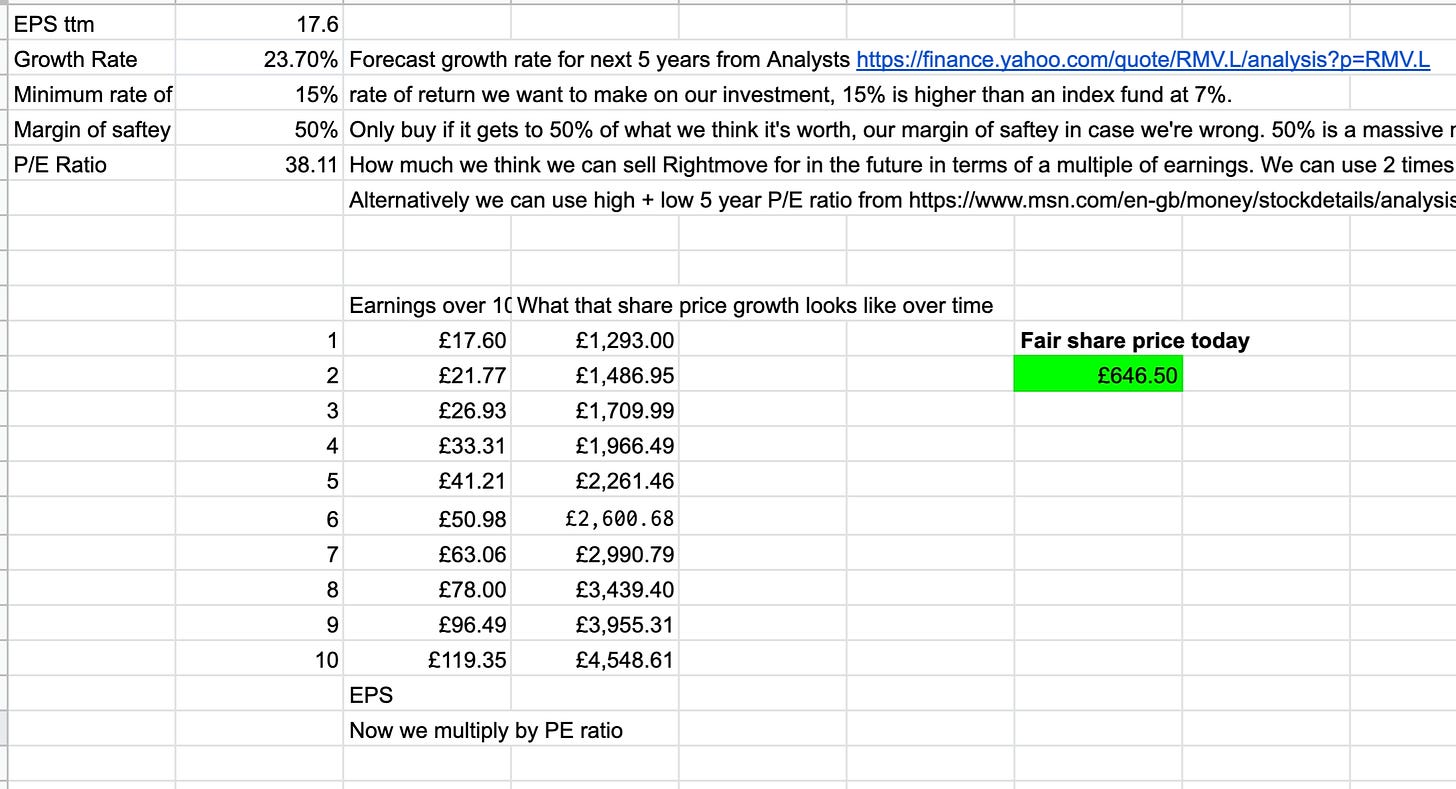 Our fair price comes down to £648. I personally believe the analysts are over-forecasting here, and there have been no analyst reports since 2019. Let's use the growth rate from our total revenue earlier, which was 14%.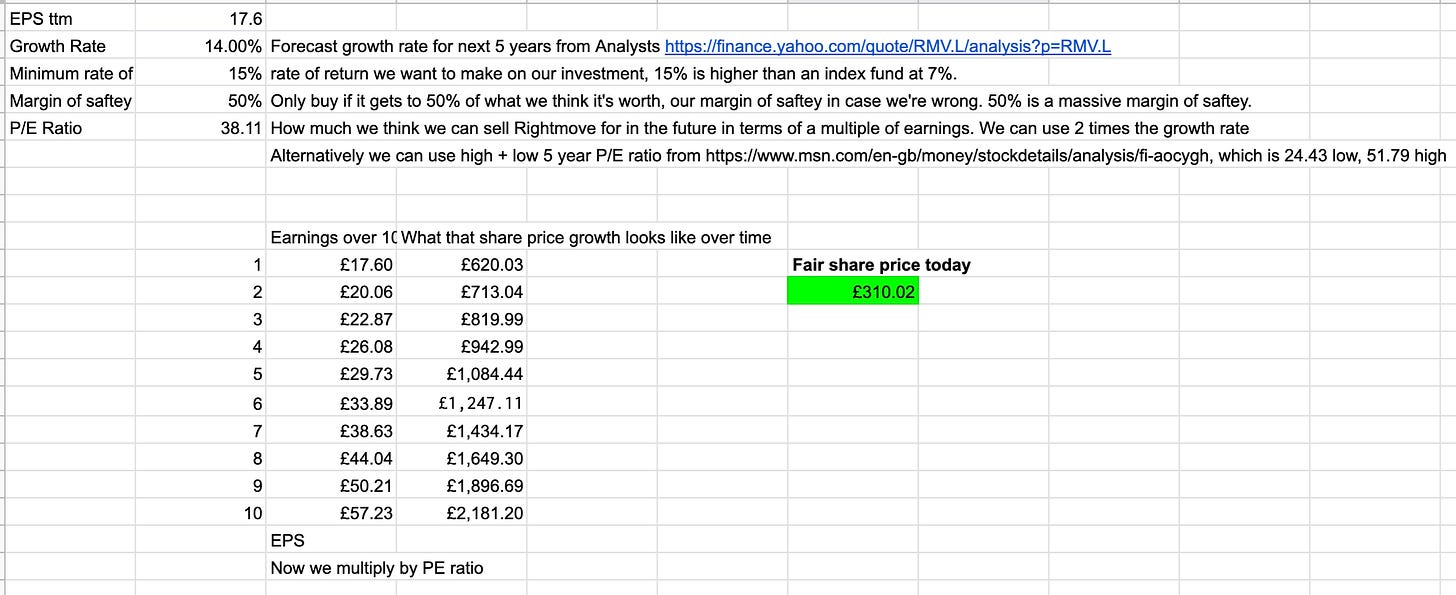 This brings our fair value down to £310 if Rightmove continues to grow as they are currently. This is with a 50% margin of safety. We require the margin of safety because some of these numbers are opinions, so to protect against people being wrong we use this margin.
Obviously, this is an absolutely mad evaluation, if they were really worth £300 I'll sell everything I own to buy them at their £7 share price currently!
My opinion is that Rightmove has far too many shares outstanding and regularly splits their shares (their most recent was a 10-for-1 stock split) which means each share is £7, but because there are more shares it is heavily diluted. If we divide by 20 to account for the share split and any future splits, we get a fair share price of £15 with 50% margin of safety.
Let's perform another valuation, using a different YouTube video. My biggest concern with Rightmove is their premium valuation, if I am wrong about this I could potentially lose or not make money. So it's important I try very hard to make sure we get a fair value :)
The numbers we need for this are:
To calculate the EPS growth rate we take the book value per share over time and calculate the equity growth rate
I followed the above video and I came to the conclusion with these numbers:

Future expected stock value £3819
Current price fair value: £381
With 50% margin of safety: £190
With stock splits (divided by 20) £9.55
I'm really not sure whether this is the most undervalued stock of all time, or if my maths is wrong. I think it might be going wrong because:
They've had a lot of share splits.
They're valued in pence and I am not converting properly, I tried to verify this but the websites I use don't state whether these statistics are in pence or pounds.
If someone can calculate their own fair value and post it in the comments I will much appreciate it :) 🙏
🐂 Bull Case
Big Data tooling for buyers of homes, not just agents/investors.
New API product allowing companies to programmatically gain access to the largest private database of the UK housing market.
Diversifying away from agents only. Agents make up a very large % of Rightmove's profits, increasing revenue from other sources will help them.
Continued upselling of add-ons to agents, boosting the average revenue per agent.
I think Rightmove has the potential to grow substantially if they were to properly exploit the amount of data they have.
🐻 Bear Case
Agents no longer see the value and begin to leave leading to the decline of Rightmove.
The housing market could crash, leaving Rightmove with a potential problem. (releasing more big data products would reduce their reliance on agents / the housing market and fix this).
Evidence that their ARPA has reached a limit and agents are generally not willing to pay more.
👀 What to watch
I fully expect Rightmove's share price to go parabolic, they're going to have to sell more access to their big data including through APIs or an interface for home-buyers like agents have.
Their SEO to stay top-notch and on the top, hopefully increasing. When this starts to decrease we'll see either a decline in Rightmove's market share or a decline in consumers wanting to buy houses.
More agents sign-on, creating a larger moat around the business.
Their ARPA to increase year-over-year.
Potentially expand to other countries, but I believe their big data is the secret sauce here.